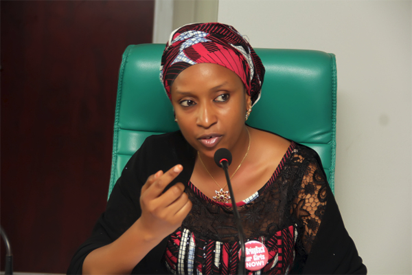 Hadiza Bala Usman
By Jide Ajani
Hadiza Bala Usman was appointed the Managing Director of the Nigeria Ports Authority, NPA, a little over a year ago.  But she approaches her responsibilities as if she'd been working at NPA all her life.   The way she tackles issues presents her as someone who has a good grasp of what her duties are.   Well, you could argue, that with good education, that  should be a given.   But, then,  those who were educated are  responsible, to a large extent, for the sorry pass Nigeria has come to.
With Madam Usman, however, she has proved how tough she can be with her handling of the many challenges, as well as her approach to setting new  standards for port activities.   In this interview, she explains how well she's coping.
Excerpts:
It's been a little over a year that you were appointed as Managing Director of the Nigerian Ports Authority, NPA.    Give us an idea of your first thoughts about the enormity of the responsibility. 
My first thought was that it was going to be very challenging and an incredibly new experience. The fact that I was not deeply involved in ports activities before and had no ties in the industry actually worked in my favour. I approached my new role with enthusiasm and confidence having spent most of my working life in the public sector.
And on arrival to resume duties at the NPA, what situation did you meet on ground did they align with your expectations? 
When I arrived I met a well trained personnel needing motivation.   We had to deal with issues such as revenue leakages, indebtedness towards third parties, etc. We also had to handle the challenge of concession agreements that did not quite place a demand on all parties to fulfill their own part.
We met decayed port infrastructure that required renewal and ports that weren't operating at an optimum level in line with global best practices.   So, in a nutshell, what we met on ground did not align with our expectations considering that we are operating in one of the largest economies in Africa.
Since your appointment, in what significant ways would you say your administration of the NPA has impacted on the Authority and industry as a whole? 
In our 12 months, we have made considerable progress and the efforts cut across both our operational and administrative endeavours.
We have commissioned the Command & Control, Communication and Intelligence Centre for NPA. This facility will serve as surveillance point for all activities and as an information network centre for security agencies at the ports.   In June 2017, we launched the provisional, final billing and customer portal module of Revenue Invoice Management System, RIMS, aimed at improving our service offering, partner relationship, create efficient payment method, maximise revenue and eradicate loss associated with fraud and revenue leakage.
To further improve operational efficiency, we recently acquired and commissioned 4 new tug boats namely MT Daura, MT Ubima, MT Uromi and MT Majiya.   Most importantly we have commenced the process of the review of concession agreements to ensure seamless collaboration for a sustained development of the maritime industry.   This, we believe, will introduce a new dimension in our operations.
The Nigerian Ports Authority had, even before the executive order, developed a Standard Operating Procedure (SOP), establishing a dedicated terminal to handle exports aimed at diversifying the economy and improving earnings in line with the mandate of the Federal Government.
The dedicated terminals include Ikorodu Lighter Terminal for Lagos, Shoreline logistics terminal for Calabar Port, Bua Ports and Terminal (warehouse measuring 2.896sqm and Port and Terminal operators Limited (Warehouse 'A' measuring 2.760sqm for Rivers Port.   All terminals have been mandated to establish dedicated desks that will handle all documentations on export, receipt of consignment and the loading of vessels.
For a long time, the challenge of bad port access road which has continually caused untold hardship to both port users and residents of Apapa has been a recurring decimal.   To address this, the Authority is conducting a full assessment of all port access roads across the country. Our partnership with the Federal Ministry of Power, Works and Housing resulted, in the first instance, in the MOU with the FMWH, Dangote Group and Flour Mills for the reconstruction of the Wharf Road in Apapa.   The project cost is put at N4.34 billion out of which the Nigerian Ports Authority is contributing the sum of N1.829 billion.
To address the challenge of bureaucratic and chaotic clearance of cargoes,     we have, in collaboration with Nigeria Customs Service and Nigeria Sovereign Investment Authority, developed the operational framework of establishing the National Single Window, Ports Community System and Scanning services. This is aimed at simplifying and harmonizing formalities, procedures and the related exchange of information and documents between the various partakers in the port operations value chain.
Our effort in restoring investors' confidence in the port industry has also started yielding the desired result with the China Harbour Engineering Company planning to take up 15% shareholding in the Lekki Deep Seaport project. Dubai Port World is negotiating a partnership agreement with Josepdam Port Services while the Tanger Med Port of Morocco is also indicating willingness to develop a green field terminal logistic base.
We are confident that these initiatives will result in a more efficient port sector that will favourably compete and ensure we achieve our vision of being the leading port in Africa.
The industry you operate in is a very volatile one. In the past one year for instance, we have had some workers unions or stake holders at the ports giving ultimatums indicating a downing of tools and all sorts. How have you been able to weather these storms and is there a chance that there would be a permanent end to such misunderstandings? 
It is important to point out that there are different unions operating in the port industry. The NPA's in-house unions which oversee the interest of the workers have been quite cooperative.   We have had the ports shut down for only one day over the proposed ports and harbours bill. It was called off on the first day of the strike. The unions had concerns over certain aspects of the bill as it relates to retrenchment of staff and harbor operations being seeded to the private sector. We have drawn their attention to the fact that the bill will not in any way bring about retrenchment or retirement of staff. The assets and liabilities of NPA will be transferred to the new Ports and Harbor Authority. The bill will grant permission to the Authority to concession some aspects of its operations but it does not stipulate that harbor operation would be handed over to private company.
We have also explained to the union that they will have an opportunity to make their submissions during the public hearing. We encourage them to do that.   NPA   as an entity has made submissions during the public hearing and we would make additional submissions   to ensure that all areas that are of concern to us are addressed.
By and large we have put in place a system of constant dialogue that will ensure that we do not have unresolved issues with the unions.
On the other hand we have had some industrial actions organised by the truck operators and freight forwarders which are not a direct result of any fault of the authority. Their agitations bother on port access roads (which are under the direct supervision of the FMWH) and cargo clearance procedure.
However I have said it in several fora that the authority recognises that all agencies are one and under the same Federal Government and so we will collaborate     and lend our weight on any effort that will solve the lingering challenge .This is because all these issues if not resolved will have an impact in our operations as a port authority.
In addition to unions, there are also a lot of conflicting business interests in the sector, it is evident that your reform initiatives have ruffled some feathers, what is the ultimate goal of your reform and how are you going to be able to accommodate all these interest to the overall benefit of the NPA and Nigeria? 
Nigerian Ports are a gateway to the country and they are key to growing our economy.   The ultimate goal of the reform is to strengthen the position of Nigeria's ports and make them competitive. One of the two approaches to achieve this is to have a competitive pricing and tariff regime.   We are therefore conducting a study to determine respective tariffs and pricing regimes across the region. We will review our tariff regimes once the study is complete.   We also need to be operationally efficient, which means ensuring that we are ready for vessels, that our channels are free of wrecks, and that any ship that is coming to berth in Nigeria has access to the necessary infrastructure and equipment.   We are also reviewing our concession agreements after ten years.   Within that review, there will be critical issues around equipment deployment, infrastructure deployment, ensuring that our terminals are operationally efficientand able to provide the service required.   We have identified gaps in our infrastructure, and have allocated budget so that funds can be deployed to improve our set-up over 2017.We are going to accommodate all interest as long as the overall benefit of the authority and Nigeria is not compromised by any means.
Let us talk specifically about the attempt to democratise business and break all forms of monopoly at the ports, Nigerians have had a lot of conflicting positions about this, can you clarify? 
Government has continually made efforts to re-position the maritime industry in line with global trends and in order to enhance the growth of the nation's economy, the Federal Government of Nigeria embarked on a comprehensive port reform initiative.   The desire was to build a robust and responsive economy that will have the private sector as its back bone. This review will ensure that all parties operate within the boundaries of the agreement and achieve the goal of encouraging healthy competition and a level playing field for all operators.
Upon assumption of duty we were confronted with protests by some terminal operators over the designation of only one terminal operator as exclusive handlers of oil and gas cargoes.We found this absurd and against the spirit of port reforms.
As a Ports Authority, we are modelling all our operations in line with global best practices which only recognise three broad classes namely bulk, container and multipurpose cargo. This is the practice globally. There is no special recognition or designation for oil and gas anywhere in the world! But the point should also be made that even Nigeria did not contemplate this categorisation at the point of concessioning in 2005. The agreements signed with concessionaires categorised the ports into the three classes I mentioned earlier and nothing more. So all importers were free to choose any terminal or port for the discharge of their cargoes, subject to the presence of all requisite regulatory agencies at such ports as required by extant regulations and in line with the policy of promoting competition and value for money.
 So, why this oil and gas designation?
So this oil and gas designation is a misnomer that has been corrected by a presidential approval which has mandated that we go back to the three broad classes of bulk, container and multipurpose cargo Consequently the NPA and the BPE are to streamline the payment of shipping and other fees based on cargo type rather than on the basis of designation of terminals to ensure that there is no loss of revenue to the Federal Government of Nigeria based on terminals that importers choose to bring cargoes into the country.
Can you explain the initiatives you have put in place to enhance transparency at the NPA. The MOU you signed with BudgIT and other steps you have taken? 
Apart from making our budget open to the public, we also observed that tariffs of ports all over Africa was not open for customers to access and know how much they will pay for services in Nigerian Ports Authority we have changed that and our tariffs are accessible anywhere in the world because it has been published on our website. We have also directed all terminal operators to do same.
The NPA has also been reported to be at logger heads with some federal government agencies operating in the ports over the exclusion of some of these agencies from physical presence on site. How does this enhance efficiency at the ports and how do you hope to retain the co-operation of these sister agencies? 
The Authority is not in logger heads with any Federal Government agencies operating in the port over exclusion of some of these agencies from physical presence on site.   The Authority is only enforcing the directive of the government vide a letter received from the office of the Honourable Minister of Finance in August 2011 which specifically stated that only eight (8) Government agencies namely Nigerian Ports Authority, Nigeria Customs Service, Port Health, Directorate of State security, Nigerian Police, Nigerian Immigration Service NIMASA and NDLEA   are allowed to reside in the port.   This still subsist.
However there is need to clarify this directive.   It does not stop any Federal Government Agencies from coming to the port to perform its statutory functions.   This can only be done on invitation and immediately after performing their dutiesagencies not covered by that letter are to go back to their offices outside the port.
This directive will not affect the relationship between the Authority and other sister agencies because the reason for this directive is to reduce the bottleneck usually experienced in our Port on delivery procedures and this will actually fast-track delivery and documentation in the port.
Your activities have shown a passion for collaboration with people and organisations from the public and private sectors. Recently you visited the Nigerian Navy, what drives these moves? 
Shipping is an international business which requires informationsharing and close collaboration. In consideration of this we have identified the need to constantly engage all stakeholders in the maritime industry in order to synergize and pull our collective resources together both human and material to achieve our desire to establish a virile port industry.For example we need to ensure that our waterways are secured, hence we need to support the Navy in carrying out its functions.In so doing, we donated three boats to help them forestall the operations of illegal activities in our channel.
This synergy will also see the NPA link its command, control and intelligence centre with the Falcon Eye of the Navy. This will ensure sharing of information and intelligence reports aimed at securing our waters.
You were reported to have recovered huge sums of money that was going into private accounts prior to your assignment to NPA, you have not spoken much about these. Can you give us some insights into these recoveries and what you have done to ensure that such malfeasances do not happen again? 
The funds involved were Cargo tracking Notes in the sum of €6,606,016.07(six millions, six hundred and six thousand sixteen euro and seven cents), domiciled in a bank. As at the time the new management came in, the fund was still in the commercial bank as against the directive of the Federal Government to transfer all funds to TSA.
On assumption of office we sought for necessary approval from relevant Authorities and pursued it and ensure that a Euro denominated bank account was approved for the funds to be transferred into CBN.
In a related development, it was observed that the revenue collected by another bank in the sum of $24,370,061 was not being swept to CBN in line with the TSA policy. This was revenue collection made between the period of September 2015 and July 2016. Upon discovery of the failure of the bank to sweep funds to CBN, the Authority suspended the bank from further revenue collections.
Spirited efforts had been made through the Central Bank of Nigeria and the Office of   the Accountant General of the Federationto get the money back but only $4m has been paid so far. Following several letters and a series of meetings with the CBN to mandate the bank to pay these funds, the CBN had in January, indicated that they will guarantee the funds but we are yet to receive confirmation. As at today, the Authority has an outstanding refund of $21m with the Bank. We have expressed our dissatisfaction and frustration to the CBN and the OAGF over the non-remittance and have sought for sanctioning of the bank.
The Acting President recently issued an executive order which mandated 24 hours operations at the ports, what efforts are on to ensure that this is sustainable, without undue risk to lives, given our peculiar security   challenges in the country? 
The Federal Government in a letter dated 16th May 2017, issued an Executive Order on Promotion of transparency and efficiency in the business environment and sequel to this order, the Nigerian Ports Authority commenced immediate implementation of some of the directives applicable to the ports. One of the executive orders mandated 24 hours operations at the Apapa Ports and the Authority had already commenced 24 hours port operations some of the actions already taken include: Provision of Marine Services (Pilotage and Berthing of Vessels) on 24 hour basis.   For instance our records showed that from the 18th June 2017 when the Order took off, our Harbours Department handled twenty (20) vessels after 19.00 hours at Lagos Port in the first two weeks of the commencement of 24 hours operator.
Also I had immediately upon the issuance of the executive orders by the Ag.President called all stakeholders to meetings to discuss how each agency should position itself to fulfil itself mandate. The security agencies have promised to ensure that they will provide round the clock security needed for operations.
Fallout of such meetings was a joint implementation committee comprising of all approved agencies working in the port. They have submitted their report and implementation expectations have been outlined. I also visited the port in the midnight to have an on the spot assessment of how prepared all agencies are in achieving the 24 hour operation.
In the past couple of weeks, the Senate Committee Customs, Excise and Tariff, has accused the NPA of complicity in the alleged disappearance of 282 Vessels which berthed in Nigeria between 2010 and 2016, what are the issues surrounding this? 
We issued a statement recently to clarify our position.   The Senate committee sent two sets of documents to us to back up the allegations that these vessels were missing. We have looked through the documents without being able to substantiate the claim.
Now, without prejudice to the information at the disposal of members of the committee, we discovered that out of the 29 items in the first set of documents we got, we could only identify five vessels. There was a list of 29 alright but 24 of them were repetitions of the five vessels that were identified.
There was a second document of ten volumes of items numbering 1-1252 that was passed on to us through the Nigerian Shippers Council. We couldn't even review these documents because it did not give us most of the information necessary for the verification.   We discovered that no vessel names were provided, no dates of arrival of the vessels were given, no port of call and name of terminal where vessel berthed were provided and no rotation number of vessels was supplied. Without these information it would be impossible for us to investigation these allegations.   So we have conveyed these observations to the Senate Committee and look forward to receiving the required information that will enable full investigation.
What we can assure the Senate and indeed all Nigerians of is that this administration of the NPA is committed to transparency and will always work in the best interest of the country.
When you eventually leave office as MD of NPA, what legacy would you want to leave behind? 
I would like to leave behind a motivated workforce that can match their counterparts in most developed countries. I would like to achieve the desired level of operational efficiency expected from the largest growing economy in the world.I would like to leave behind a competitive port industry that will serve a hub in the West and Central Africa. Most importantly, I would love to have instituted a transparent and seamless system which will ensure that the country's resources do not get frittered away and that Nigerians have the benefit of national endowment.