…Arewa Islamic Republic
…Biafra Republic
…N'Delta Republic
…Oduduwa Republic
…M'Belt Republic
…All Republics to form United Republics of Nigeria
…Don't declare N'Delta Republic, Clark warns
By Emma Amaize, Regional Editor, South-South
THE agitations for self-determination in Nigeria have taken another alarming dimension with calls for the country to be split into five entities to be collectively known as the United Republics of Nigeria.
This came as the Convener of Pan Niger Delta Forum, PANDEF, Chief Edwin Clark cautioned against the proposed declaration of Republic of Niger Delta on October 1, 2017, as a result of Federal Government's alleged apathy to the peace process in the region.
The call for the division of the country was said to have become necessary in order to avert the possibility of violent agitations.
This position was taken by a coalition of militant groups under the auspices of the Reformed Egbesu Assembly, REF.
The General Officer Commanding, REF, Tony Alagbakereowei, who spoke on behalf of the group said: "We reaffirm our collective resolve to actualise the Republic of the Niger Delta, RONDEL, which had been proclaimed in 1966 taking into cognisance the reality that there is nothing yet binding us as a people rather than the crude oil and gas in the Niger Delta.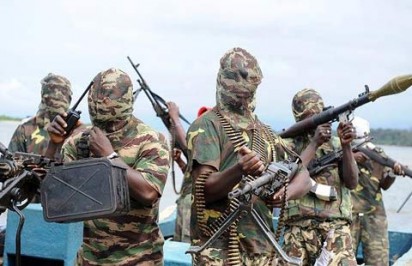 "We call on the British Prime Minister, President Donald Trump of the United States and the United Nations, UN, to conduct a referendum for the peaceful dissolution of the Nigerian states into Arewa Islamic Republic, Biafra Republic, Oduduwa Republic, Republic of the Niger Delta,RONDEL, and the Republic of the Middle Belt to be collectively known and addressed as the United Republics of Nigeria based on the principles of non-exodus and non-violence.
"We strongly restate our commitment and dedication to this model as it is the irreducible minimum acceptable political requirement for the ethnic nationalities of the Niger Delta to remain in the Nigerian state. We consider this as the best option to avoid the impending humanitarian crisis of a full-blown Nigeria civil war and armed revolution which will be foisted upon the African Continent and the world at large."
The stance of REF which was not in isolation represented a microsome of the dissenting opinions from groups in the Niger Delta on the state of the nation, especially the Niger Delta crisis.
Their grouse, Saturday Vanguard gathered was also informed by their assumption that Niger Delta leaders, were no longer promoting the interest of the region within the context of the current agitations across Nigeria.
However, the Leader and Convener of Pan Niger Delta Forum, PANDEF, told Saturday Vanguard that he was not comfortable with the latest position of REF and other groups.
Text messages
He was obviously taken aback at the threatening text messages sent to him by some militants in the region when he spoke to Saturday Vanguard, last Wednesday, at his Abuja residence.
There was also anger in his voice, as he stated:    "We (PANDEF) are not out for trouble, but we are impatient now because of the youths, they communicate with me every time. My telephones are filled up with text messages and threats. Even at the last meeting we held in Yenagoa, they threatened me. They said they no longer have confidence in us.
" PANDEF is an organization, which came into being on August 19, 2016, and since then, we have been working. Unlike some elders who do not care when their children are causing problems. We in the Niger Delta had previously gone to the creeks to talk to the youths, risking our lives.
"So when the vandalization of oil pipelines was going on, we were very disturbed and we held series of meetings. And resolutions were taken, there were other organizations, some promoted by government officials, but we collapsed all other organizations into Pan Niger Delta Forum. When this was done, we met and formed a Central Working Committee, which came up with a 16-point agenda and the President agreed to meet us through the intervention of Minister of State for Petroleum.
"On November 1, 2016, I led a delegation of about 100 high-class traditional rulers, politicians, professionals, youths and women to the Villa. We were received by President Buhari and we discussed. Our 16-point agenda was presented by His Majesty, King Diete-Spiff, who is the Amanayanbo of Twon Brass. The President had an address, but did not read it and rather said he would look into our own address. Thereafter, we addressed a press conference, took a group photograph with Mr. President and we left.
Oporoza and Kurutie
"We were then waiting and after some time, it was announced that Mr. Vice President, was coming to visit us, particularly in Gbaramatu. We were following our own programme and were told that we must receive the Vice President which we did. He went to Oporoza and Kurutie where the proposed university is, then he went to Warri, we met with him at the Petroleum Training Institute, PTI, Effurun, with traditional rulers from all over the state.
"I presented him with my opening remarks at the meeting and he said the Federal Government had accepted the 16-point agenda. The meeting ended very well and I said on behalf of the Niger Delta people that we have adopted him as our son. The relationship has been good, thereafter.
"Bayelsa was the next place. They wrote to us that we should present a paper and organize people. Former Minister of Police Affairs, Alaowei Broderick Bozimo led our team to Bayelsa State.    On  February 13, 2017, the Vice President was in Port Harcourt and another ex-Minister, Alabo Graham Douglas led our team and they discussed the    16-point agenda. From there he went to Owerri and Akwa Ibom, where he directed that oil companies should move to their operational base, which is part of our 16-point agenda.
"Later, he visited Cross River State and our presentation was made by Senator Bassey Henshaw and Bakassi was one of the points in our 16-point agenda. Then, he came to Benin, I had to ask Diete-Spiff to lead the PANDEF team in Edo State, which he did.    So PANDEF has been cooperating with the government, we wear the shoe and we know where it pinches us.''
Expiration of 60-day ultimatum
"I do not know who gave them my telephone numbers and emails, I receive calls and messages from the militants that they are tired and they gave us 60-day window to discuss with the government which is now almost a year. Nobody listens to them, and they are even accusing us that we have taken money from the government.
"My telephones are filled up with text messages and threats. The last PANDEF meeting we held in Yenagoa, they sent me a message that they learned that we were holding a meeting in Yenagoa. They said that they have lost confidence in us and that youths would be holding a meeting in Port Harcourt and they would identify with the youths and publish it in the newspaper. Two days later, on Monday 17th July, they published in Vanguard warning us that we are slave masters."
"They mentioned me in particular and King Diete Spiff and Victor Attah. They said that we allowed ourselves to be used adding that they will not listen to us. They said they will take their destiny into their own hands. So, they have been threatening us, saying that they are tired of waiting."
Speaking on PANDEF's      meeting with Acting President, Prof Yemi Osinbajo last Thursday in Abuja, Clark said PANDEF was now convinced that the Federal Government meant well for the region.
Meeting with Acting President
On the withdrawal of the November 1, 2017, ultimatum earlier given to the federal government, he said the group only urged the government to set up a dialogue team to discuss with PANDEF or the body would not attend further meetings.
Meanwhile, the Ijaw Youth Council, IYC, worldwide has called on militant groups threatening renewed hostilities to exercise restraint.
A statement by its President, Mr. Eric Omare said: "The IYC is of the view that the federal government's mere promise of dialogue and briefing on progress made with the PANDEF's 16- point demand are not enough for PANDEF to withdraw its ultimatum to the federal government to dialogue with the Niger Delta people.
"As far as the IYC is concerned, the key issue that the federal government needs to dialogue on the Niger Delta people is the question of restructuring with a view to achieving fiscal federalism and resource control. The other issues on PANDEF 16- point demand does not require a dialogue team between because they are routine government responsibilities.
"Our demand for dialogue with the federal government is to primarily address the resource ownership and control question which underpin the Niger Delta struggle over the years."