Nigeria head coach Gernot Rohr says his side will do everything possible to defeat Cameroon in their upcoming encounters.
The Super Eagles will square off with the Indomitable Lions in back to back 2018 FIFA World Cup qualifiers next month.
Nigeria will host the Indomitable Lions in Uyo on 1 September 2017, while the return match is scheduled to take place in Yaounde, Cameroon three days later.
"I discussed with the chairman of the technical committee and technical director about the match against Benin Republic and the preparation for Cameroon," Rohr told Goal.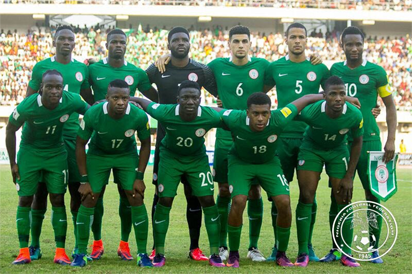 "We hope to do everything to win the first match in Uyo. We have a list of 29 players for the two games – 23 plus six players on the stand by because we could have problems.
Nigeria captain John Obi Mikel, who plays for Chinese club Tianjin TED, is back in the Super Eagles squad after missing the 2-0 defeat to South Africa in the 2019 Africa Cup of Nations (AFCON) qualifier in Uyo last Junen
"Some players will be playing in the UEFA Champions League and league matches, so we must be careful and be prepared because we could have problems either at their clubs or even in the first leg game in Uyo," he added.
"We know that in these two games, we need at least three points and the best is to get it in the first game. To win the games, I think we have a team which is stronger than the last time with more experience because three other key players are back now.
"There is our captain (Mikel Obi), Leon Balogun and Victor Moses coming back. In each department of our team, we have key players returning and we need their experiences and talents."
Nigeria are sitting at the top of the Group B table with six points from six matches. The 2017 AFCON champions Cameroon are placed second with two points.
Only the group winners will book their place in next year's World Cup finals which are scheduled to be hosted by Russia.