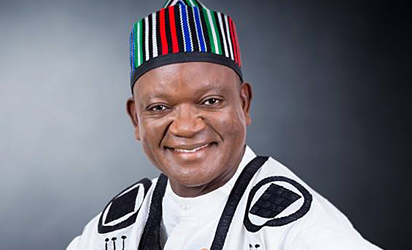 Gov Samuel Ortom
BY PETER DURU, MAKURDI
Last Sunday's heinous assassinated of Dr. Tavershima Adyorough, the Principal Special Assistant on Knowledge Economy and Investments to Governor Samuel Ortom has once again brought to the fore the need for a robust proactive action on the part of security agencies to stem the spate of crime in the state.
This latest killing brought to two the number of close aides of the Governor who were brutally gunned down by unknown armed men in Makurdi, the state capital.
The last being the murder of the Senior Special Assistant to the Governor on Special Security, Mr. Deneen Igbana, a retired Police Officer.
Igbana was mowed down by armed men suspected to be gang members of the wanted militant leader Terwase Agwaza alias 'Gana.'
Before the unfortunate incident, there had been series of killings in the state predominantly in the Sankera axis where the wanted militant leader and his gang members held sway at the time.
Besides, the   state was also bedeviled with numerous bloody conflicts between local farmers and suspected herdsmen which came with reigns of terror across the state.
From Makurdi to Guma, Agatu to Tarka, Buruku, Logo and Katsina/Ala, to Ukum it was reign of terror no thanks to marauding herdsmen who took the state's rural communities by storm and killed with impunity.
The state government was left to battle ceaselessly with internally Displaced Persons and refugees who were fleeing from one community to the other in search of safe haven.
It was indeed an harrowing experience for both the government and people of the state who at the time looked helpless and forsaken.
Suffice it to say here that while these raged, Governor Samuel Ortom had raised an alarm over what he described as the proliferation of arms in the state allegedly occasioned by the pre-general election activities of desperate politician whom he accused of arming wiling youths for the purpose of prosecuting elections.
Determined to check the trend, the Governor came out with what he termed a novel amnesty programme which was anchored on two legs, namely the carrot and stick approach.
The carrot approach paved the way for those in possession of such illegally acquired weapons and arms to surrender same to the government for a reward.
However the stick approach was to ensure that those who failed to take advantage of the amnesty programme were punished accordingly.
While the amnesty programme lasted, close to 1,000 firearms and ammunition were willingly surrendered to the government by illegal possessors while a rehabilitation programmes was also organized for beneficiaries.
Unfortunately, it was also within same period that a key official of the programme Mr. Igbana was murdered in cold blood.
At the time, the visibly shocked Governor had promised to assist security agencies apprehend all those fingered in the dastardly act.
"We will ensure that security agencies apprehend anyone who has a hand in the killing of Denen because they have killed a part of me,"he said.
Unfortunately, while steady gains and successes were being recorded in the search and prosecution of the masterminds of the murder, men of the underworld caught the government off guard and dealt another devastating blow on the administration, assassinating another key personnel in the government.
The government and people of the state were obviously rattled by the unfortunate development given the outcry that trailed the killing of Dr. Adyorough.
Reacting to the latest murder, Governor Ortom said, "It is indeed an unfortunate development, we did not expect this to happen at this time when we are battling with economic challenges and everyone is making efforts to add value to the development of our state and make life meaningful for the people.
"This is someone who was very special to this administration, a renown economist, someone who was contributing tirelessly and meaningfully to the economic development of our state.
"I invited him home from America when I was a Minister to enable him contribute his quota to the development of our dear country and when I emerged the Governor of Benue state I also invited him to contribute and bring his immense experience to the uplifting of our state.
"I'm   sad but I'm not going to be distracted by this. I'm addicted to the vision of moving Benue forward no matter the distraction that is on my way.
"The Bible says that in all things we should give thanks. Today, I give thanks to God who permitted this to happen. The Book of Samuel says it is God that gives life and also death. If God did not permit it, it wouldn't have happened.
"John 3:27 also says a man can receive nothing except it is given to him from above.
"One thing I want to assure the people who committed this crime and the entire Benue state is that we will get them. We will chase them to their holes no matter where they are hiding, we will fish them out, no matter how long it takes, because God is with us and He is in partnership with this government of Benue state.
"My emergence and how I've been able to pilot the affairs of the state and of course my dedication of the state to God is a living proof that He will not leave me alone, I'm very confident about that.
"I can assure you that there is no hiding place for any criminal in this state, I will go after them. You'll recall that before the coming of this administration people could hardly sleep with there eyes closed.
"We were able to substantially reduce criminality. Today, we are seeing some form of them coming up with their ugly heads, but I want to assure you that I'm summoning a security meeting and I'm meeting the security agencies and wherever they are we will get and fish them out.
"As I keep saying, security is everybody's business. It is important for people to avail us information of where these criminals are, because we have completed the carrot approach of our amnesty programme and we are now into the stick approach and wherever they are we will go after them.
"Moreover the primary responsibility of any government is to provide security for lives and property. This is certainly not acceptable. Where ever they are, I can assure you we will fish them out."
In his reaction to insinuations that security agencies might have failed in their responsibilities given the manner another top official of the government was murdered in cold blood, the Governor said issues of security were not all about just the security agencies.
"It about all of us, yourself, myself and the people out there. Information is very very key. They are doing their best despite the challenges they are confronted with both in funding, facilities, new technologies that can track some of these things.
"There are challenges obviously, no doubt about that. We need to support them and I need to be supported as well. We need information from everyone because if it is this man today, tomorrow it could be another person if we allow it to continue, that is why it has to be stopped.
"And that is why I'm calling on the entire people of the state to avail us information. Our security teams are ready to go after them but you know that we are in a democracy so everything has to be done in line with the tenets of democracy.
"So, as much as possible we must all ensure that we are law abiding, we don't just go after people, but if we have concrete evidence about these criminals and based on that premise I can assure you that we will take on them."