Lagos – Mr Segun Adegoke, a Deputy Comptroller in the Nigeria Immigration Service (NIS), says the service will continue to check drug and human trafficking with its 117 control posts and 72 patrol bases.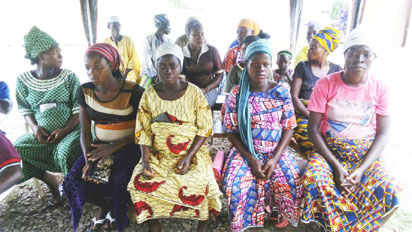 Adegoke, also the Passport Control Officer (PCO) in charge of Ikoyi Passport Office, Lagos, said that the service was implementing effective policies to check the control of persons in and out of the country.
He spoke during the just-concluded Crime Reporters Association of Nigeria (CRAN) seminar to mark the World International Day Against Drug and Human Trafficking in Lagos.
"With the establishment of the new border patrol corps consisting of 117 control posts and 72 patrol bases and in synergy with other security agencies, drug and human trafficking will be put in check.
"Drug and human trafficking is a lucrative and hidden business that involves syndicates, therefore, security agencies need to be steps ahead these syndicates.
"Also, for effective border management, surveillance had increased at the border to check irregular migrant as officers at the control base are also trained periodically,'' the PCO, a guest lecturer at the seminar said.
Adegoke added: "The officers also go on constant inspection of hotels to check if there are irregular migrants hiding in the country.
"At the point of entry or exit, officers check suspicious travelling documents and also use their professional experience to determine when
not to grant suspicious applications for passport.
"We also have deportees' bio-data which makes it easy for us to track unrepentant victims and traffickers themselves.''
He, however, noted that parents and guardians should play an important role in the upbringing of their children to prevent them from being victims of trafficking.
But, Mr Wale Olaoye, CEO, Halogen Security expressed the fear of the possibility of increase in human trafficking in few years to come if adequate steps were not taken.
According to him, human trafficking will surpass illegal sale of arms and ammunition and should be taken seriously.
"We are looking to change the narrative as the country tops other countries in the production and seizure of hard drugs.
"Nigeria also has the highest number of persons serving jail terms for drug offenses in the world which should be of great concern to us.
"The laws governing human and drug trafficking also needs to be made stiffer as fines no longer make the laws effective enough to check the menace.
"We need to look deeper into how security agencies can work together on information. The border control system also needs to be made more effective and robust to counter issues of trafficking.''
He applauded the federal and state ministries of education in ensuring that children and adults alike are aware of the threats that abound in the culture of ignorance.
"The role of the government in ensuring the adoption of general social service procedures and streamlining them to meet global standards in addressing and changing the course of the current negative narrative of the nation.
"The role of the Police in identifying already convicted offenders and forecasting the activities of individuals who could be termed potential traffickers based on previous travel activity is commendable,'' Olaoye said.
He also urged the Nollywood industry to partner with the National Agency for Prohibition of Trafficking in Persons (NAPTIP) to produce true life stories and experiences of returnees or those weaned from
drugs.
Olaoye added that such help in demonstrating and sharing the alternative narrative that are real life testimonials.
Similarly, a representative of the NAPTIP Director-General, Mrs Kehinde Akomolafe said: "We need an attitude of change for things to move on in this country.
"Human trafficking is modern day slavery which needs to be checked. It is a crime that cannot be done by just a person but syndicates also involved in money laundering and drug trafficking.
"Sometimes, the victims see the traffickers as their benefactor which is a major challenge and NAPTIP has set up nine zonal offices across the six geo-political zones to check the menace.
"Human trafficking is an evil that can be ended through collaboration as Nigeria is a source, transit and destination country.
"NAPTIP has commenced sensitisation as ignorance is often seen as the reasons and excuse by victims.
"The law governing human trafficking has been repealed in 2015 and included stiffer punishments, no options of fine and proceeds of trafficking go into victims trust fund.''