Fresh from the Conservative Party Summer Parlay in London where he mixed with Prime Minister Theresa May and members of her cabinet, Commonsense Advocate and Nigerian Senator, Ben Murray-Bruce has urged the United Kingdom to remove trade barriers between it and all African nations especially Nigeria and instead, should create the enabling economic atmosphere for direct trade deals with the African nations.
Senator Bruce made the call while delivering a speech in Kampala, Uganda, alongside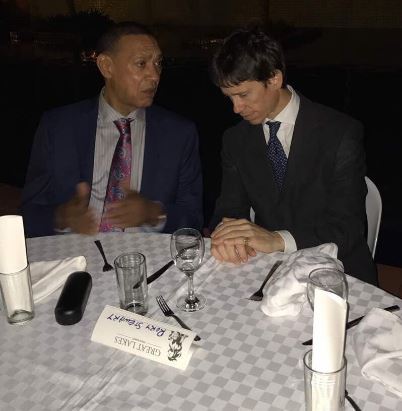 These were the same views the business mogul Senator advanced to the Theresa May government when he attended the Conservative Party Summer Party in London on Wednesday July 5th, 2017.
In a speech entitled 'Africa's Future Lies in Trade Not Aid', the Conservative Senator said "Africa – the entire continent, all together – earned $2.4 billion from coffee exports in 2014. That year, Germany alone earned $3.8 billion from coffee re-exports."
He described this as unfair and called for the EU but especially the U.K. to remove trade tariffs and barriers on African exports of refined agricultural and mineral goods.
The Senator said "trade agreements won't happen on their own. We need to make sure that Britain is removing obstacles to trade – and that we Africans are reciprocating. Trade barriers hurt everyone. Yes, they hurt the exporter who is denied a market. But they hurt consumers in the protected country even more."
Asked what his mission in politics was, the Commonsense Advocate said "Typically in most nations, people make money in the private sector and then go into politics, but in Nigeria the reverse is the case. People go into politics to make money. I aim to change that".
The conference is organized by Conservative International and is titled 'Great Lakes Trade Summit'. It held in Kampala on Friday 14th July 2014 and had as speakers Senator Ben Murray-Bruce if Nigeria, Rory Stewart U.K. Minister for Foreign & Commonwealth Affairs, & International Development, James Wharton British Minister for International Development 2016-17 and a host of other eminent speakers.