By Simon Ebegbulem
BENIN—IMMEDIATE past governor of Edo State, Mr Adams Oshiomhole, yesterday, distanced himself from the comment made by his long time friend and ally in the labour movement, Mr Isaa Aremu, who suggested at a forum that the former Head of State,  Gen. Ibrahim Babangida (retd), should apologise to Nigerians for helping to bring the country to its present state rather than calling for the restructuring of the nation.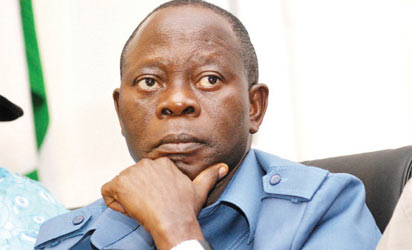 Aremu, who represented Oshiomhole as a guest speaker at the 5th Triennial Delegates Conference of the Petroleum and Natural Gas Senior Staff Association of Nigeria, PEGASSAN, in Abuja, had lampooned the former  Head of State for the current crisis in the nation.
But Oshiomhole, who distanced himself from Aremu's comment which he said was personal to Aremu, said in a statement by his Personal Assistant/ Media aide, Mr Victor Oshioke,  "It is true that there was no prepared speech handed over to Issa Aremu, but the conversation Oshiomhole had with him spelt out the scope of the issues to be discussed.
"There was nowhere during the conversation that the name of the former Head of State,  General Babangida, featured with respect to his comments on restructuring or otherwise. We were surprised, therefore, to read news reports credited to Oshiomhole asking IBB to apologise to Nigerians instead of asking for restructuring."
" We wish to state unequivocally that the view so expressed is entirely that of Issa Aremu and does not in any way represent the views ofAdams Oshiomhole.
"Oshiomhole's opinion of IBB was eloquently captured in a personally signed paid advertorial to mark IBB's 75th birthday on August 17, 2016 in several newspapers. His respect for him has neither wavered nor faltered; hence he was quite surprised that such a statement was wrongly credited to him."