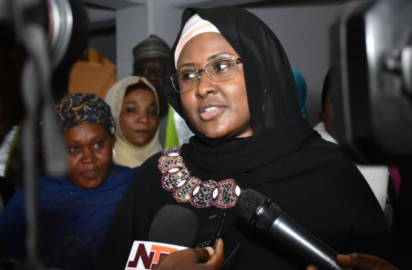 Wife of the President, Mrs Aisha Buhari, addressing State House Correspondents shortly after her arrival in Abuja on Tuesday (6/6/17) from United Kingdom where she went to visit her husband, who is on medical leave in the British capital. She conveyed the appreciation of President Muhammadu Buhari to Nigerians over their constant prayers and said he would soon return to the country.
Nigerians reacting to President Muhammadu Buhari's wife statemet on her Facebook page have asked if she now sees them as animals?
First Lady Aisha Buhari, yesterday, said that hyenas and jackals who are taking advantage of her husband's illness would sooner than later be sent out of the kingdom.
Mrs. Buhari on her Facebook page responding to a solidarity message from Senator Shehu Sani, who had posted a message on July 6 alleged that in the president's absence that sycophantic prayers for the lion's recovery had waned said "God has answered the prayers of the weaker animals. The hyenas and the jackals will soon be sent out of the kingdom. We strongly believe in the prayers and support of the weaker animals."
Shamsu SimK @Simk36 said 'So we're all animals in Aisha Buhari's eyes? wonder what type of animal Saraki is to her;
Lawrence Modebola @lawsbollnews said: 'Good morning Weaker Animals, may the LORD make all stronger. The jackals, Hyenas and the Hyenanas should get theirs from Aisha Buhari.'
BiafraSay Forum @BiafrasayForum said: 'You Have Joined Kanu In Calling Nigerians A Zoo – Reactions Trail Communication Between Sani And Aisha Buhari '