By Abdulwahab Abdulah & Jane Echewodo
A 22-years-old lady (name withheld) and a graduate of the University of Lagos, UniLag, yesterday, before an Ikeja high court, gave account of how she was lured, raped and defrauded by two brothers, Bright Nwachukwu and Chijindu Nwachukwu, earlier in the year.
The defendants, Bright Nwachukwu, 31, and Chijindu Nwachukwu, 23, are both standing trial before Justice Josephine Oyefeso on a two-count charge of rape and obtaining money by false pretence, brought against them by the Lagos State Government.
The offence, according to the prosecution, contradicted the provision of the Criminal Law of Lagos State, 2011. They both pleaded not guilty to the charges, when they were arraigned.
The victim, a graduate of the Department of Biology Education from the University of Lagos, who was led in evidence before the court by the prosecutor, Mrs C. K. Tunji-Carrena, said she met the first defendant at Iyana-Ipaja area of Lagos State, on her way to school on February 12.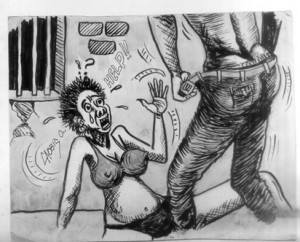 She said the defendants had approached her, speaking French Language, and asked her for an address of one Diamond Warehouse, which she told them she did not know.
She also noted that there was another man beside Bright, who asked her to describe the place if she knew it and she maintained that she did not know the place.
According to her, "I wanted to be on my way, but the other man that was with Bright pleaded with me to help him and Bright handed him some foreign currencies and he held my hand that we should follow him.
"At that moment, I didn't know what I was doing again; I just followed them and we crossed to the other side of the road at Iyana-Ipaja and boarded a bus towards Sango.
"I paid the transport fare for the three of us and we later alighted at a bus stop, which I didn't know.
"We took a tricycle to another place, where we met the second defendant, Chijindu, who disguised as a store keeper. He later brought out something that looks like a photo-film and washed it in a liquid and it turned into a N1,000 note.
"He folded the money and asked me to take a bite in an oath that if I tell anyone of what is going to take place, I will die."
She said the second defendant, Chijindu, told her to bring some money so they can print more currencies, but as she did not have cash on her, he collected her ATM card and headed for an ATM.
Raped
She narrated: "I became so scared and I started crying and pleaded with him that I don't want to die. Bright then told me that the only option to avoid death was to have sex with him. I started begging him again not to have sex with me, but he eventually had his way.
"When Chijindu came from where he had gone to withdraw the N19,000 that I had in my bank account, he ordered me to delete the alert message sent by my bank. He also came back with another man, who claimed to be a pastor.
"He brought in a bucket of water and after looking through it, he said my mother has some money in her drawer and I should go home and bring it, while he instructed me not to talk to anyone until I accomplished the mission."
Rescued by her mother
The witness said she got glimpse of a sign post reading "Toluwalase" and put it to heart. She also told the court that when she got home, she met her mother and her brother, who later told her that she was acting strange and restless.
According to her, "my mother later came to me and held me, seeking to know what happened to me and I told her I don't want to die. She was shocked and we were both crying.
"She told me that God is the owner of my life and I came back to my senses and told her all that happened."
She further told the court that her mother put a call through to her pastor and she was later taken to the family hospital due to the sexual assault and then referred to a hospital in Ikeja.
The victim also said the matter was reported at Area 'G' Police Station in Ogba and she was also referred to another hospital for check-up and counselling.
During cross-examination by the defence counsel, Mr. Ikenna Okoli, the witness maintained that she gave her ATM to the second defendant and money was withdrawn from her bank account.
She also insisted that the first defendant had sex with her without her consent.
The matter was, thereafter, adjourned till October 10 for continuation of trial.