By Emman Ovuakporie
ABUJA—SPEAKER of the House of Representatives, Mr Yakubu Dogara, said, yesterday, that the House would pass the whistleblowers bill as a panacea to curb corruption in Nigeria and promote accountability in governance.
Dogara spoke at a workshop on Whistleblower's Protection Bill for leaders of Civil Society Organisations, CSOs, and members of the House Committee on Financial Crimes.
He said: "We shall continue to promote citizenship participation in our legislative activities and pass the Whistleblower's Bill as a panacea for curbing corruption in Nigeria and promoting accountability in governance.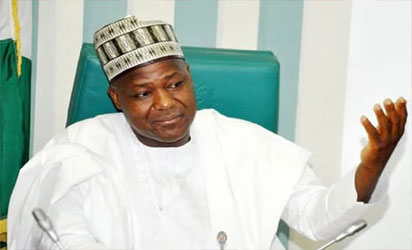 "In the words of Barack Obama, former President of USA, often the best source of information about waste, fraud, and abuse in government is an existing government employee committed to public integrity and willing to speak out.
"Such acts of courage and patriotism, which can sometimes save lives and often save taxpayer's dollars, should be encouraged rather than stifled."
"We need to empower federal employees as watchdogs of wrongdoing and partners in performance."
He   assured   the stakeholders of the House's continued support  in the quest to promote evaluation and exchange of ideas, coordination and peer-learning in the fight against corruption.
"A robust framework on Whistle Blower's law will no doubt enhance quick and seamless recovery, forfeiture, and confiscation of property in respect of anti-corruption offences.
"Finally, it is hoped that this time around, whistleblowers legislation will see the light of day and be enacted into law to break the jinx that has bedeviled this piece of legislation since it was first introduced into the National Assembly in 2008.'
"The consequences of corruption are greater than just the diversion of resources, profound as this is.
" It threatens sustainable economic development, ethical values and justice; it destabilises our society and endangers the rule of law.
"It undermines the institutions and values of our democracy. But because public policies and public resources are largely beneficial to the poor and the vulnerable, it is they who suffer the harmful effects of corruption most grievously."