By Gabriel Olawale
SENATE President, Bukola Saraki has urged state governments and private sector to collaborate for the actualization of adequate and affordable energy mix which will serve as a complimentary means to achieve energy security in the country.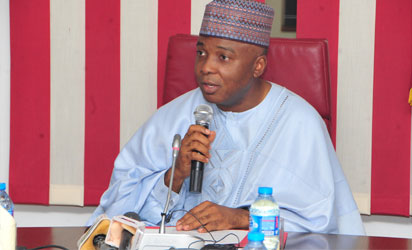 Saraki said that such collaboration will help liberalize the energy situation in Nigeria in such a way that the rural woman can cook with a clean cook-stove and fuel,  while the school pupil can wake up at night and have light to do his/her home work, the farmer can power coolers to preserve his/her milk and prevent post-harvest losses, the barber and hair-dresser can make more money with regular access to energy, the industrialist will no longer want to close shop and move to Ghana.
Speaking at workshop on "The State of Energy Security in Nigeria on the Way to COP23" organized by Konrad Adenauer Stiftung (KAS) Climate Policy and Energy Security Programme for Sub-Saharan Africa, Saraki pointed out that if a small village in Germany can develop a renewable energy that serves their purpose and support national grid, such model should be replicated in Nigeria.
"In march this year, I visited the 100 percent renewable energy village of Feldheim near Berlin and was impressed by the fact that a small village of less than 1000 people was able to form an energy cooperative that generates energy from renewable sources such that surpluses are sold to the national grid. Why can't one state in Nigeria do it in partnership with the private sector?", Saraki asked.
He explained that the 8th National Assembly is working hard to pass the necessary laws to achieve energy security. "We acknowledge that in order to fundamentally create a robust and secure energy base, strategic and deliberate government policy both short and long terms that will guarantee the present and future energy needs is necessary.
"There is need to reform the administration of our current major source of revenue, improving other revenue generating sectors and instituting an economic diversification framework that could initiate a stepwise transition to a green economic development pathway", Senate president stated.
On his part, Director Climate Policy and Energy Security Programme for Sub-Saharan Africa, Prof. Oliver Ruppel said that climate policy and energy security are issues that need not be neglected not only in Africa but other parts of the world.
"In many developing countries, including Nigeria, one of the challenges to sustain economic development is access to sustainable energy options. Economic and social development are dependent on improving access to energy and the supply of modern energy option.
Subscribe for latest Videos