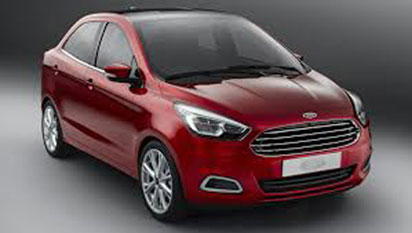 Ford Figo
By Theodore Opara
MORE THAN 500 units of the all-new Ford Ranger have been assembled by Coscharis Motors at the Ford plant in Lagos in the last one year. This was disclosed by Mr. Babarinde Abiona, Group General Manager, Marketing and Corporate Communication, Coscharis Group, during the just concluded Journalist Driving skill training by Ford Motors,in Lagos.
Speaking during the training, Mr. Babarinde noted that a huge investment has already been made by the group to produce Ford vehicles in their Awoyaya Lagos plant. He explained that all the vehicles produced at the plant were according to Ford standard worldwide.
He pointed out that both Ford and Coscharis are committed to growing the automotive industry in Nigeria, and this type of training form a major part of the brand's work in Nigeria.  We are particularly happy that we can collaborate with Nigeria Auto Journalits Association, NAJA, on an important project such as this aspect of improving road safety.
According to him,"road safety is a topic of global concern and particularly important here in Nigeria where our deaths and injuries from motor vehicles accidents are far too high. Motor journalists can play a vital role in educating Nigerian consumers on all things motoring but most importantly on road safety and telling them about vehicle features that support safety.  We hope that you all share the knowledge you learn today with your readers. Besides the general training on distracted driving we have incorporated a 4×4 trail requiring the use of four-wheel drive, as well as a special presentation on child safety in the car.
You will have the opportunity to learn about the features that the Ford Ranger offers such as safety, departure angles, brake distance on gravel and anti-lock braking system (ABS) and how to use other four-wheel drive functions such as traction control, locking differential and the drive train.
Drinking and driving will be under the spotlight with the use of the drunk-driving goggles. These goggles imitate a drunk driver and simulate how alcohol actually impairs driving skills. The Ford Ranger is our flagship nameplate here in Nigeria, locally assembled and the current 2016 NAJA 'Pick up of the year', we hope you people take the opportunity to drive in a Ranger. We will also have other nameplates to drive as part of the DSFL training including the Focus, Figo amongst others.
Ford, through its sole distributor Coscharis Motors, offers Nigerians a range of SUVs, including the new Edge and popular Explorer, as well as the well-equipped Ranger and F150 pick-up trucks and sedans such as the Taurus, some on display  for your delight to view. We would like to applaud NAJA for taking on this annual training initiative. It's an excellent opportunity for the local automotive industry as it brings like-minded people together.