…Explains why he didn't visit President in London
By Omeiza Ajayi
ABUJA—National Chairman of ruling All Progressives Congress APC, Chief John Odigie-Oyegun, has dismissed speculations that he was not in the good books of President Muhammadu Buhari, hence the president's seeming disinterest in funding the party.
While also denying the existence of any rift between the party and the President, Odigie-Oyegun said his inability to lead some members of the National Working Committee, NWC, of the party to visit the President during his last medical trip to London was not because of any bad blood between the two sides, but a decision that was mutually arrived at.
He said:  "I was to go and he said 'look there is no need' because he knows the people he is dealing with, he too knows those that have to see him because they need to see him and he knows between us, there isn't that kind of pressure and necessity.
"I asked him, do you think I should come and he said 'don't worry I would be coming back soon' and to me that was good enough. I know maybe from the point of view of public relations, maybe once you go there and sit there and get photographed, maybe yes if you look at it from that point of view you have a point.
"What is important is that when he finally arrived, he personally arranged that I was one of the very few people to come and welcome him. What more do you need?
"When he came back the first time, we saw and he has gone back now and I know he wants to be left in peace. Again that is my nature, I am not someone that gives in to every photo opportunity.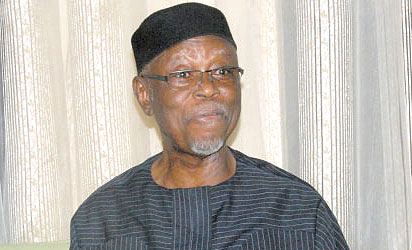 "Once everyone knows there is going to be a group photograph with the President, everyone dives in, but I don't do that; that is me. I have done a lot of things with the President in the past, so for me it isn't a big deal.
APC now bigger, stronger than individuals
According to Odigie-Oyegun, the APC under him has been able to neutralise certain individual power bases to the effect that the party is now supreme.
Although he would not mention names, but the chairman was clear that no individual could operate the party from his bedroom, saying those days were long gone.
He said: "There is no likelihood (of a break-off) but should it happen, the threat and damage it would do to the party would be very minimal today. Which part of the country, the South-West? Who controls Ogun State, who controls Ondo State? Oyo State is on the fence, who will control Osun State, who is likely to control Ekiti State in terms of who will be the next governor?
"So the mainstream of the party is now well placed and the point has been proven clearly from Ondo State that in a free and fair election, nobody's word is certain. People don't see it but there is a new party, totally new and stronger party.
"We didn't work to dislodge anybody. We worked to establish permanently that the party is supreme. There are two different things, one is negative by working against an individual. Why? But when any part of the party wants to prove they are larger than the party, then the party has to stand and fight and, of course, the president has always said that the party is supreme.
"When he (Buhari) came back from his first medical trip, I welcomed him and all his courtesies before his statement and when he mentioned 'our oga kpata kpata' he meant it. The supremacy of the party is one thing he has always hammered on."