By Nwafor Sunday
The Minister of Transport, Mr. Rotimi Amaechi has said that Femi Fani Kayode, former minister of Aviation, took two billion naira transferred by the former governor of Rivers state, Dr. Peter Odili to the Ministry of Aviation to fix Port-Harcourt runway without delivering the job.
He made this known in a chat on ChannelsTv on Saturday.
Amaechi in his briefing opined that he is an incorruptible official who is allergic to money, thus counter blast those who holds such dingy opinion against him. He stressed that his honesty should not be in doubt.
According to him, " Is my honesty in doubt, I have told Nigerians and repeat today that I am not corrupt and I don't like money. "Am not one swayed by money, I have lived a character that most Nigerians can tell you. "I try much as possible not to annoy God by saying that I am honest, but with all modesty am an honest Nigerian and there are very few honest Nigerians"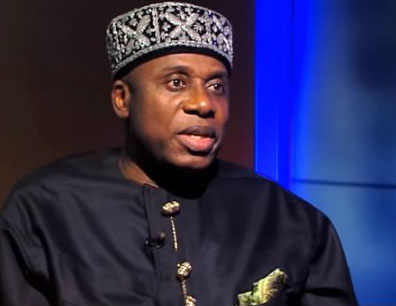 However, he was asked the reason people see him as a corrupt official, he answered, "It started when Nysome Wike became governor, he took documents from the government house that people could not read and said 'we sold gas turbines and disappeared with the money' he set up a panel for inquiring, publish their report, he said.
Similarly, another question was splashed on him  to know if the cause was because he led the campaign organisation of president Buhari, he answered, "If I was corrupt why didn't former president Goodluck prosecute me. The fight between Goodluck and the Rivers state government or myself lasted for two years.
Pointing at his covered immunity that protected him as a governor then, he said, "For Christ sake Adamawa governor had immunity and they removed him, take him as an example they went after the innocent man for nothing, they were coming for me but the case of Adamawa state they had no facts and the court overruled it.
However, seeing him deviating from the prior question the presenter called him back and asked him how he was able to fund 2015 presidential election. Amaechi answered, "Clap for yourself, do you have any evident that i funded the 2015 presidential election, leading the campaign is different from funding an election. You need to ask Buhari's campaign organisation, there were contributions everywhere and everybody contributed even a woman walked to Buhari and gave him her last savings, Nigerians wanted change because the level of corruption in the country was so high and that's why they contributed to remove that government. "Including you I believe that Nigerians owe me allot, when I sit in house I believe Nigerians owe me allot, 'first we saved this country from that level of corruption, corruption were you see 50 million dollars at Osburn's street and those who share in the corruption are busy dancing about it.
Moreover, Amaechi said that "former governor Peter Odili's government gave Femi Fani Kayode, former minister of Aviation 2billion naira to fix the run way and it nowhere in the record of Aviation, am the minister of transportation, I have that record, it is not there, he went away with the 2billion naira. Also,he was asked if it was an allegation on Femi Kayode he said "Am not making an allegation, this is a statement of fact, am I am the minister for transportation, Dr. Peter Odili I was the governor of Rivers state, in writing the cabinet approved, handed over 2billion naira to Femi Kayode to fix the runway at the Port-Harcourt airport road  that was close for two years and Femi Fani Kayode left with the money. "Is that the kind of character I will speak to, we are not of the same level.
Speaking further, he promised to make the facts available to newsmen on Sunday, for people to see that there is no evidence anywhere in the ministry of transportation to show that 2billion naira was transferred from the Rivers state government to Aviation to fix the airport. "The man left with the money," he stressed.
Finally, he advised that president Buhari should run for the 2019 presidential election for he is fit and capable of ruling Nigeria.
Watch what he said more about Buhari's health and his unflinching opinion in Buhari's coming back for the second tenure, visa-vi the response of Femi Fani Kayode over the 2billion naira accusation from Amaechi.
Enjoy the video: