By Juliet Ebirim
Nollywood actress and model, Theresa Edem Isemin is best known for her roles in Ayamma, Hotel Majestic and Tinsel . In this interview, the Akwa Ibom State-born actress who tied the knots in 2015, bares her mind on her acting career, marriage and much more.
How has life been for you generally?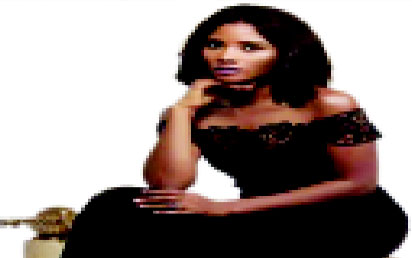 Life has been great, I can't complain. I'm doing what I love to do, and God has been gracious to me. I'm happy!!
When and how did you start acting?
I started acting from my primary school days. But professionally, I started acting in 2012, after I completed an acting course at Royal Arts Academy.
What was your first time on set like?
Oh my goodness! Just remembering it gives me chills. I was very nervous and I felt slightly intimidated by everything. After two takes or so, I settled into the flow of things and started to relax.
What movie brought you into limelight?
Actually, it wasn't a movie, but a TV series. I would say M-net produced 'Tinsel' gave me my first big break; playing 'Angela Dede' on Tinsel for 7 months, being watched every night across Africa. This gave my career the boost that it needed.
What is the most challenging character you've played?
You know, I thought playing 'Princess Ama' in Ayamma was my most challenging character. Then, boom! I'm contracted to play Daniella in a movie called Loving Daniella. The character has Borderline Personality Disorder (BPD). She's a grown woman but she thinks, talks and behaves like a 7-year-old child. It will be out in cinemas later this year.
What influences your choice of roles and the movies you do?
The script has to be good, and the character needs to be well-rounded and in-depth. The movie overall must have a message. I don't just act for acting's sake.
Is there any role you would turn down?
Like I said earlier, I don't just act for acting's sake. So, if a role has no depth and is not adding anything to the story or the viewers' experience, that would be a "no" for me.
What's your impression of the Nigerian movie industry?
Wow! I am super-proud of Nollywood and how far we've come. We are not where we want to be yet, but we are also not where we used to be.
What has been your experience so far in the industry?
I've had my ups and downs, and these experiences have helped shape me into the actress I am today. I must say I'm in a good place now. I really love my job.
How and when did you meet your husband?
I met my husband when I was 16 years old. He came to see my elder brother to help him fix his radio set and I was the one he met at the gate. The universe collided at the moment and we became best friends (Laughs).
What was the attraction?
Besides the fact that I think he's really cute. He is super intelligent and that really attracted me to him.
How has marriage affected your acting career?
Marriage has influenced my career positively.
Does being married influence your choice of movies, such as  kissing, smooching and other raunchy scenes?
It sure does. I will not take up a role that will bring embarrassment to my family. What I look out for is how are all these things going to move the story and the entire movie forward. If it's just random "intimacy", I won't go near it. However, if such intimacy is important for the story and the movie, I'll do it – it's my job. I talk about it with my husband. And after that, I talk to the producer/director, so we can come to an understanding.
Any regrets so far?
Not a regret per se, but I wish I had studied Theatre Arts. I actually studied Animal Science and Technology at the Federal University of Technology, Owerri.
Mention some of the movies you've done?
After the Proposal, Behind The Scenes, Trapped, Betrayal, A Girl's Note, Baker's Daughter, While We Worked Things Out, Stormy Hearts, and Ayamma, to name a few.
What's unique about you as an actress?
Everything about me is unique; my talent, depth, expressions, voice, gait, looks… everything.
Are you working on anything at the moment?
Yes. I am still working on the movie, Loving Daniella. Also, we're at the editing stage of my short film, We. And lest I forget, the movie Stormy Hearts will be out in cinemas 2nd June.
What are some of the high points/memorable moments in your career?
Getting to play 'Angela' on Tinsel was definitely one of my most memorable moments. I still remember getting the phone call that I 'd been picked for the role. Wow! My cinema debut, Ayamma is also one I'll never forget – Ayamma gave me wings to fly. And getting love from my fans is always great. I have die-hard fans, and their love reminds me that all of this is for them.
Talk about your modelling career?
My modelling career is going well. I mostly do TV, Print Ads and Billboards. I haven't dabbled into Runway yet [Lol]. Last year, I was made the Brand Ambassador for Miss Fashion Week Africa. Overall, I would say my modelling career is not doing badly.