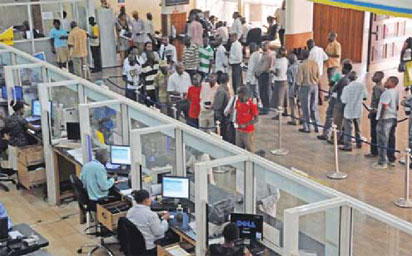 Banking hall
By Adaeze Okechukwu
HOW to place  a fixed deposit
Even if the process of placing a fixed deposit varies slightly from one bank to another, opening a fixed deposit account is still very simple.
First, determine how much you want to place in your  deposit plan.
If you do not have a regular savings account in the bank,  you will have to fill-in a deposit mandate form. In some banks, you would also need to fill-in reference forms so you can deposit cheques issued by third parties.
The bank will require;  passport photograph, proof of identification, a copy recent receipt from any public utilities and a copy of a residence or work permit for foreign account holders is required.
If you have existing account(s) in the bank, you need to just fill-in a form stating the following: account name, account number, deposit amount, duration of deposit.
Advantages
The most important advantage of investing in Fixed Deposit is that, it offers guaranteed return because there are very low risks and uncertainties as compared to investment in stock market.
Furthermore fixed deposits are very flexible and convenient in nature because one can have fixed deposit with maturity for 1 month or 1 year with any amount unlike real estate where one needs to invest heavily.
In addition, investing in a fixed deposit account earns you a higher interest rate than leaving your money in a savings account as FD's interest rates are highly negotiable.
  It is easy to raise a loan against your FD. One can borrow up to 90 per cent of the FD's amount.
  Disadvantages
As attractive as fixed deposits can be, they may not necessarily be suitable for everyone.
One of the biggest disadvantages of investing money in fixed deposit is that, its returns are low compared to other investment options and if the inflation is very high fixed deposit investors are the worst hit as the return from fixed deposit may not be sufficient to cover the high expenses due to inflation.
Also, If one invests all of his or her money in fixed deposits,    he or she may not enjoy the benefits of diversification which one get if one invests the money in stock market, real estate, gold and other alternate investments.
As far as taxation is concerned fixed deposits are taxed at normal rates of taxation and hence one cannot take the tax benefit from this investment,  unlike the infrastructure bonds.
Moreover, because your money is locked away with the bank, often for months, you lose the flexibility of a regular, day-to-day savings or current account. If you do withdraw your money from your fixed deposit account before the agreed maturity date, you will likely be penalised in the form of reduced interest or penalty fees.