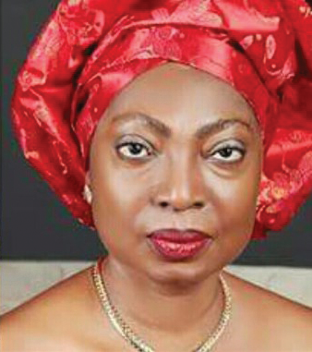 •Sen (Dr.) Rose Oko
By Gabriel Ewepu
ABUJA- THE Senator representing Cross River North senatorial district, Dr Rose Oko, has revived 34 schools with educational materials in the district.
Oko who is passionate with human resources development maintained that when young people are given qualitative education with necessary materials they become useful to themselves, families, communities, and nation.
She said: "I bring to you the good people of Cross River Northern Senatorial District in general, staff and pupils of St. Ben's Primary School, Mfuma in particular, my warmest greetings as I present books and other essential learning materials to enhance your studies and improve the standard of education in our senatorial district.  We will on this occasion present desks to your school.
"This event is a token of my appreciation for the confidence once again reposed in me by electing me to the upper legislative chamber. I wish to assure our people in Cross River North, that I will do my best to justify the confidence that you have continued to repose in me by first voting me into the House of Reps in 2011 and now the Senate in 2015.
"In the present intervention, we are intervening in a total of 34 schools across the Northern Senatorial District comprising provision of science equipments to 13 schools; provision of textbooks and reference materials to 10 schools; provision of classroom desks to four schools; and construction of six numbers of two classroom blocks; all at total cost of N185million. I urge you all to use these materials judiciously to improve the standard of education of your pupils to the benefit of our dear state.
"My vision in representing you in the upper chamber of the National Assembly is to consistently reach out to my senatorial district with the dividends of democracy in terms of infrastructural development, instructional materials and human capacity development using my zonal intervention provisions as well as reaching out to friends of our Senatorial district to attract other projects.
"In our line of intervention we have also scheduled to train youths in entrepreneurial skills and provide start up grants; provide scholarship for our youths in secondary and tertiary institutions and also provide empowerment tools for poverty alleviation.
"This intervention is part of my zonal intervention projects for the 2016 budgeting year. They are also a series of empowerment programmes slated for 2017 which will include scholarships, skill acquisition programmes and entrepreneurship training programme with start-up grants as well as poverty alleviation tools for the good people of Cross River North senatorial district."
Similar intervention
Some of the benefiting schools include Community Science School, Olachor, Okpoma, Yala; O'nwu Secondary Grammer School, Yahe, Yala; Government Science School, Egbe-Mbube East, Ogoja; Igbeku Comprehensive Secondary School, Okuku, Yala; Begiaka Technical School Ibong, Begiaka, Obudu; Comprehensive Secondary School, Gakem, Bekwara; Technical Secondary School, Ijiraga, Yala; and Community Secondary School, Utugwang, Obudu.
Others are Community Secondary School, Ishibori, Urban I, Ogoja; and Nkim Iborr Community Secondary School, Aladim, Nkim Iborr, Ogoja; Community Primary Schools, Ijama, Oóh, Yala, Eshakom, Natara II, Ekajuk, Ogoja, Okpodon 3, Igede, Ukelle North, Yala, and St. Ben's Primary School, Mfuma, Ukelle South, Yala.
According to the federal lawmaker similar intervention was done during her tenure in the House, where she used her zonal interventions to provide 24 number of six classroom blocks and three classroom blocks in 22 wards of Ogoja/Yala Federal Constituency, constructed six boreholes, attracted through the Niger Delta Development Commission, NDDC, which three road projects are currently under construction at Ochubi – Olachor Ipuole Road, Okpoma, Yala, Igoli Ogoja – Abakpa – Ndok Junction Road, Ogoja, and Mary Knoll ring Road, off Abakaliki Road, Okuku, Yala.
Facilitated the employment of over 20 of youths in federal establishments and provided empowerment tools 20 garri factories, 18 block moulding, nine grinding machines, 12 tricycles, five cars, 20 motorcycles, 20 sewing machine, trained 20 women and empowered them with start-up kits of Forever Living products, trained 56 youths in entrepreneurship and gave N100,000 to each participant as start-up grants.