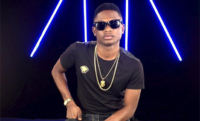 BY ROTIMI AGBANA
Once referred to as the laziest artiste signed to the Olamide owned record label, Viktoh, has expressed gratitude to God for using him to bless his former label mate, Lil Kesh, who has now floated his own record label, YAGI. With a few songs to his name, including his recently released single 'Body Bad', Viktoh is not the type to measure his success with that of his industry colleagues; he believes his own success will come at God's appointed time.
In an exclusive chat with Showtime, Viktoh declared that introducing Lil Kesh to Olamide is already a success for him. Though he hasn't released an album or floated his own record label like Lil Kesh, he believes he is already as successful as Lil Kesh. "First, God's time is the best, Lil Kesh is successful and I'm also successful; everybody knows Viktoh so that's enough.
I'm getting there gradually so that's success", he said.  Recall that he was once accused of being a lazy artist because Lil Kesh whom he introduced to Olamide has released an album under his own label imprint after parting ways with Olamide's YBNL.
He stressed that contrary to what others may think, he is happy that Lil Kesh has achieved more than he has. "Not at all, I'm happy he is successful and I'm also proud of him, at least I did something good, so definitely my blessing is on its way", he said. He explained that though his contract with YBNL has not been renewed since its expiration sometime in 2016, he is still with the label, but without a signed contract.
Showtime's investigations revealed that ever since the expiration of his contract with YBNL, he has been financing his music recordings, productions, videos and promotions.