THE questions most readers of this column ask always make me wonder how many of you out there really know how uninhibited sex could be and how you can acquire sexual experiences that work for you. Unfortunately, these experiences don't just happen. You need to work on your self-confidence so that you feel strong enough to ask for what you want in bed. A lot of women find it hard to say: "Can you take it more slowly dear," because they think it implies criticism. The thing to do is to lavish praise on his sills as a lover and then slip in a suggestion or two about what you really want.
For instance, say: "I love the way you touch my breasts, could you carry on a little bit further down the side?" Stop faking orgasms. It is counterproductive because you're educating him into thinking that what he's doing is working for you when it isn't. A satisfactory sexual relationship can become stale because there isn't any incentive to change things. You need to make a decision to do things slightly different,even though you probably don't want to. "For instance, if you usually stroke him with your right hand," advises Jane, a sexologist, "try using your left. It feels all wrong at first, but you'll be stimulating new pathways in the brain, opening new avenues to pleasure."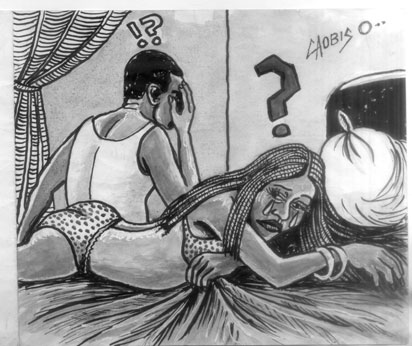 She continues: "There' s this huge misunderstanding about sexual fantasies: talking about them can be very exciting, but you don't have to act them out. In fact, it doesn't usually work because fantasies are so subtle and personal, and your partner can never know the exact details of what turns you on. Talking about your fantasies while having conversational sex can be much more raunchy."
You need to give up the idea that sex has to be pontaneous to be any good. Accept that sometimes you're going to have to plan for it, and that this doesn't diminish the experience in any way. "Try to build in variety, but check that your partner wants to do the same thing as you," says Jane." Just because you get turned on by nibbling his ears, don't assume he does too. Ignore what men say about their sex lives they're such liars. Most people have a very average time in bed. There are periods when it's absolutely pathetic, and times when it's really quite good, and the rest of the time it's just so-so.
"Women often find it hard to accept that sex is an intensely egotistical activity. When you're getting to the point of orgasm, you're really not thinking about anyone else's pleasure. Try not to feel pressurised by erections—he has them all the time. It's his erection to worry about, not yours." She also points out that most people settle down far too young. Women, especially tend to over-commit too quickly forgoing the chance to experiment sexually.
According to Jane, it's helpful if women masturbate, because that way they learn how to have an orgasm.
And many more women could be multi-orgasmic if they just learned to push on after the first one. Only 30 per cent of women climax through orgasm.
Even if you're married or celibate, it's important to find erotic pleasure in everyday life. Once a woman is "spoken for" she often feels that she shouldn't flirt, but there's a lot of erotic play available in the most fleeting encounters which has nothing at all to do with either infidelity or sexual harassment.
Remember that it is vital to be able to express emotion. You need to kiss, cuddle, shout and cry. Unless you're able to show what you're feeling, then how can he possibly know? Men aren't mind-readers. Self-esteem is also vital. You can't give love to anyone else until you can feel it yourself. You need to believe that you are respected and valued for who you are, not for what you do.
Stop blaming your partner. Assume that he bears you nothing but goodwill. He doesn't mean to make you unhappy by forgetting birthdays or anniversaries. Start from the position that you both want to make your relationship work. You need to be flexible, tolerant and open—and it also helps if you fancy him! Lastly, don't forget to take note of any changes in patterns of behaviour. If he suddenly starts to watch television late at night, it could be that he's avoiding being close and intimate with you in bed. On the other hand, he may simply like late-night television. The important thing is to ask….