By Udeme Clement
Idiroko, the border town between Nigeria and  Benin Republic, is in the news again, as Ogun Customs cracked down on dare-devil smugglers, intercepting prohibited items worth millions of Naira.
The officers, not deterred by the volatile nature of the region and attacks from smugglers, made mind- boggling seizures of petrol tankers loaded with rice, boat engines, cannabis sativa, used tyres, foreign rice loaded in vehicles padded with extra iron carriers, imported frozen products, fairly used vehicles and other contraband items.
Sunday Vanguard, during a visit to the Command, saw one of the Customs patrol vehicles that was totally shattered with bullets from smugglers, who attacked the officers while on operation to secure seizures.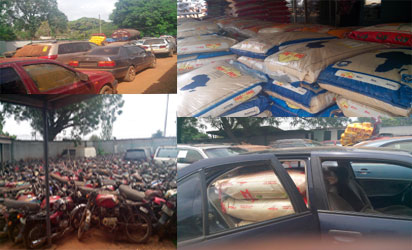 It was also observed that the premises of Ogun Command was covered with seized items of prohibited goods, items intercepted from the forest and other locations within   the border, even as motorcycles  seized from smugglers occupied a large space of the Customs compound.
When Sunday Vanguard extended the visit from Sentry axis of the Command to the main border-line it was also observed that the current Customs Area Controller (CAC) of the Command, Comptroller Gangua Hassan, has stepped up patrol surveillance at the border, even as the Command is running 24 hours border patrol at Idiroko.  The inspection of seizures took another dimension as over 12 more vehicles with prohibited items, mostly rice were brought into the Command, with officers returning from operations.
Speaking, the CAC said, "A lot of successes are being recorded daily. The tireless efforts of our officers yielded a total of 344 seizures with Duty Paid Value (DPV) of N291.8million from January to March, 2017.
The items seized include rice, motorcycles, second hand clothings, shoes, hand bags, tyres, fridges, cannabis sativa and vegetable oil. The Command made spectacular seizures of 14 units of vehicles, 823 bags of rice, 35 gallons of vegetable oil and 220 cartons of imported frozen items with DPV of N27.2million in just a few days. We still have  1,800 bags of rice, imported poultry products and smuggled vehicles that are yet to be deposited in the government warehouse".
"Also, between January and February this year, the Command made an impressive performance in revenue collection of N906.6million. On March, 26, while on routine patrol along Ilaro-Oja-Odan axis, our officers intercepted two vehicles stocked with foreign rice smuggled into the country.
In the process of conveying the smuggled items to Customs house at Idiroko, some hoodlums barricaded the road, armed with dangerous weapons and subsequently opened fire on the officers.
Our officers repelled the attack and were able to secure one of the seized vehicles with partial damage to our official vehicle. Imagine what would have been the fatality, if the officers did not exercise caution in a life threatening encounter with the dare-devil smugglers and economic saboteurs.  We must continue to stand firm and resolute in discharging the statutory duties bestowed upon us as a Service with dedicated and uncompromising commitment"
The officer in charge of operations, Tako M. A, described the CAC as a fearless and experienced enforcement officer who has been able to raise the tempo of anti-smuggling drive in the Command, notwithstanding the volatile nature of the border communities.   "You can see the seizures recorded in  few days, the CAC is hard working and believes in team work,   that is why the Command is achieving greater success despite attacks by smugglers who are carrying on illegal border trade to the detriment of our local industries", he said
Subscribe for latest Videos