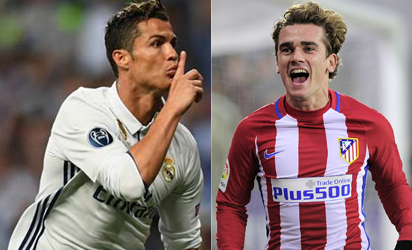 Ronaldo & Griezmann
By Emmanuel Okogba
Bernd Schuster, a former Real Madrid coach who also represented Atletico Madrid during his football playing career has revealed that Atletico supporters would rather go out in the Champions League semi-finals than miss out on the trophy at their third time of asking.
Schuster also stated that he has a feeling the two Madrid sides will be drawn to face each other in the semis.
But if they are kept apart after the draw in Nyon on Friday, he thinks Diego Simeone's side and supporters would be dreading the possibility of facing Real, who beat them in the 2014 and last season's finals.
He said "Some of my Atletico-supporting friends have told me they would rather lose in the semi-finals than play Real Madrid in another final," Schuster told Marca.
"But I am convinced we will have a derby in the semi-finals.
"Real Madrid have more squad depth and that is very important in a long season.
"Having the best squad doesn't always bring you success, but Zinedine Zidane knows how to get the best out of this team.
"They played great in the tie against Bayern Munich and are a worthy semi-finalist."
Real's immediate attention though is a date with Messi's Barcelona in the El Clasico at Santiago Bernabeu on Sunday.
Juventus and Monaco are the other semi-finalists