By Chinonso Alozie
Owerri—The commissioner, Public Complaints Commission, PCC, Imo state, Mr. Ambrose Ugboaja, has called on Governor Rochas Okorocha, to reverse his policy on payment of only 40 percent pension arrears to pensioners in the state, describing it as an act of "coercion."
Ugboaja made this statement while speaking to Vanguard yesterday in Owerri.
According to him, "No reasonable man will say that a pensioner wilfully donated 60 percent of his pension money to the state. The government may feel that it has succeeded, but it has not.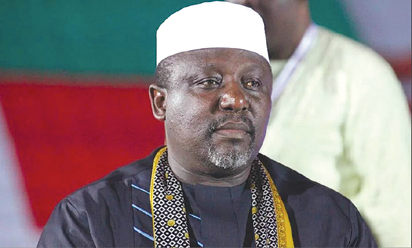 "Some of these pensioners even helped the politicians to design the severance alliance and other policies that undermine regular payment of pensions and gratuities. Unfortunately, it is only when they retire that they realize their unqualified obedience.
"Now, most state governors receive their salaries in full, even after leaving office as pension. Even when they got another political office, they will be earning their full salaries in office and still take pension from the state.
"For us, I think that pension money is a non-negotiable debt, because it represents part of the pensioners hard-earned salary. These are deductions made over the years from the pensioners salaries when they were in active service.
"The intention is that upon retirement, the money will be paid to them to take care of their old age. The first  sum that is usually paid to them is what we call gratuity which is what political office holders now earn as severance allowance."
It was his view that "Pensioners can plead non est factum, meaning not my will. They were coarse to signing it. They were hungry and there is no money for them to eat. They did not sign it with their clear eyes."