By Egufe Yafugborhi
WARRI—THE Olu of Warri, His Majesty, Ogiame Ikenwoli, yesterday gave his blessing to ongoing efforts by Itsekiri academia to establish an Itsekiri-owned University of Warri, UNIWARRI.
The Olu gave his support at his palace, when Professor Nesin Omatseye led a delegation of university lecturers on the umbrella of Concerned Iwere People for Higher Education, to acquaint him with progress report on the proposed UNIWARRI.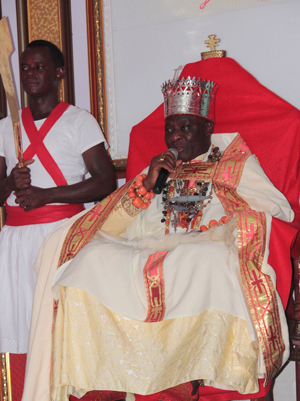 Prof. Omatseye had told the Olu that the urgency for UNIWARRI rested on the challenge that Itsekiri students seeking admission to higher level programmes were either rejected or pushed to faculties they did not ask for because "Itsekiri are the only ones who neither own nor control any university in their homeland. Our Urhobo neighbours own and control three universities. Ijaw control one, E.K. Clark University, Kiagbodo. Itsekiri PhD/Masters degree holders seeking employment as lecturers are either rejected or dribbled with counterparts from favoured nationalities getting employed."
Omatseye disclosed that the proposed UNIWARRI had already been offered a 160,000 acres site by Obitugbo community, Warri North Local Government Area. He added that a take- off fund of N500 million would be raised by well meaning Itsekiri individuals, families and institutions.
Responding, the Olu of Warri said: "Your vision is perfect. If we had 5-10 Itsekiri with this zeal in the past, we would have built this university long ago.   I am fully in support of this vision, but depending on individuals to raise the major funding may not bring us up to the needed speed. There are lots of resources coming into Itsekiri nation through Chevron, Shell, NDDC, Niger Delta Ministry, DESOPADEC, and other development agencies.
"If we can agree, we can say to these development partners, let all allocations available to Itsekiri for a set period be channeled towards a befitting UNIWARRI. If we do that, N500 million take-off fund is small. We can get up to N2 billion. And that goes for other central infrastructures. But we must all have to agree as I said."