BY JIMITOTA ONOYUME
PROFESSOR of Geophysics, Nnaemeka Ukaigwe   has expressed fears that several oil deposit sites in the country may not be discovered with the seismic method of exploration being used by most oil companies in the country.
Speaking at a valedictory lecture in his honour at the University of Port Harcourt the retired Professor said  there was urgent need to reintroduce the magnetic and gravity method  in the oil and gas exploration sector, saying its cheaper and achieve faster result.
He said more oil deposits were discovered when  the magnetic and gravity method was the approach in the petroleum sector, assuring that geophysicists were ready to assist oil companies in areas of calculations if they return to this approach .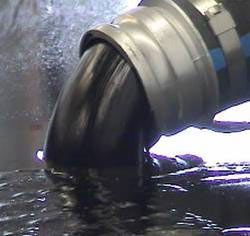 Continuing, he appealed to oil companies and universities to expound research in magnetic and gravity method  to enhance its benefit to the nation
"This were the same methods that were started in exploring for petroleum until by the 1970s there was there was a lot of development in the seismic method and it took over.
His words, "I am therefore calling on the governments, oil companies and the Universities to intensify research on these methods to give confidence to the companies that they could use the data as much as they decide to."
"they have shot this area several times expending on Seismic without result, but if they had done gravity or magnetic, they would have shot one or two time to get results, the structures would have come out clearly, it is now for you to completely define it. It has been used before with success and can still be reintroduced now for more success."
"The methods can successfully be used to achieve very good and explicit results in finding the site and target of mineral resource deposits in the soil, but the problem is that the methods are surrounded in misery, so it is not very clear to geologists how to look at the map without processing it. They do not have the mathematical skills to process it so they run away from it and also get company magenta to run away from it.
"But if put in the hands of those who know what to do with it, it will give us the same kind of results as Seismic is giving."
"In exploration, 95 per cent of dollar expenditure goes for seismic method, the other five per cent goes to magnetic and gravity methods."