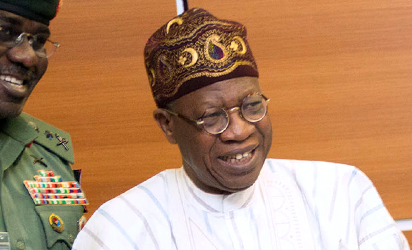 Lai Mohammed
By Jimoh Babatunde
THE appointment of Dr. Paul Adalikwu, as the new acting director general of the Nigerian Tourism Development Corporation, NTDC, last week pending the appointment of a new helmsmen, has continued to generate furore in the industry.
Adalikwu is the third acting D-G after the removal of the immediate past director general of the Nigeria Tourism Development Corporation (NTDC), Mrs. Sally Mbanefo. Mrs. Mbanefo was removed on November 27, 2016 through a letter by the Secretary to the Government of the Federation, Babachir David Lawal.
Boniface Ebuka was appointed as acting DG but replaced barely a month in office by Mrs. Mariel Rae-Omoh.
But the umbrella body of travel and tourism journalists in the country, the Association of Nigerian Journalists and Writers of Tourism, ANJET, has cautioned the Minster of Information and Culture, Alhaji Lai Mohammed, over happenings at the Corporation, NTDC.
The body described the trend as sending the wrong signals, creating instability as well as tainting stakeholders' confidence in Nigeria tourism in addition to dampening the enthusiasm of the agency's workforce. The body recalled that Adalikwu, a director in the Ministry of Water Resources, served as aide to immediate past minister of tourism, culture and national orientation, Chief Edem Duke.
ANJET posited that the frequent change of leadership at the NTDC spells a negative indicator for the industry, which is capable of further worsening the fortunes of tourism, still struggling to make any impact in the country's comatose economy.
"We believe the minister may not have been informed about the true state of affairs at the NTDC before these appointments which has seen three different acting DGs all in a space of five months, which is not in good light for an agency and tourism that have not done well over the years.
"We restate that we are not against the person of Adalikwu. However, we frown at the spate of appointments and changes at the helm of affairs at the corporation, which we believe does not augur well for business in the tourism industry or even at the NTDC itself, especially the morale of the workforce.
"We are of the opinion that the wave of appointment of acting DGs under five months is not the panacea to solving the myriad of problems at the NTDC or in the tourism sub sector of the country.
The action of the minister, therefore, can only be a recipe for worsening the problems at the NTDC rather than solving it. This is aside the unwholesome prospects of instability, disharmony and mistrust among the staff in the corporation which these changes portend."