Jaguar has announced a range of enhancements to its F-PACE performance SUV and XF and XE sports sedans. The 2018 model updates see the debut of Jaguar Land Rover's latest Ingenium engines and new convenience and safety features available across all three vehicles to deliver more choice and personalisation than ever before.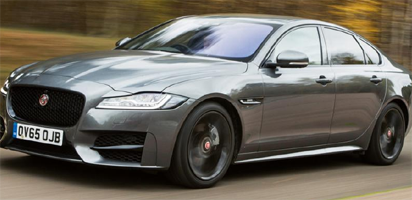 The changes broaden the appeal of all three models, with an all-new four-cylinder Ingenium petrol engine introduced alongside a high-output 177kW diesel powerplant.
The new 183kW 2.0-litre four-cylinder Ingenium petrol engine uses Jaguar Land Rover's low friction all-aluminium-intensive design to provide excellent thermal properties and lightweight construction for improved efficiency and enhanced vehicle dynamics. Models with the 183kW engine are identified by  25t  badging.
The diesel range is bolstered by the introduction of the 177kW 2.0-litre four-cylinder twin turbo Ingenium diesel. This high output 500Nm engine delivers traditional Jaguar performance without compromising running costs.
Sequential configuration
The strengthened engine has uprated pistons, crankshaft and fuel injectors and is the first four-cylinder Jaguar Land Rover engine to deploy twin turbos. Their sequential configuration boosts power at high engine speeds while improving responsiveness at low engine speeds. Jaguar F-PACE and XF models fitted with the new diesel engine wear the  25d  badge.
"We are committed to expanding the Ingenium powertrain family produced at our award-winning £1 billion Engine Manufacturing Centre in Wolverhampton as we meet current and future consumer needs," said Nick Rogers, Executive Director – Product Engineering.
Jaguar Land Rover's family of Ingenium engines have the technologies to deliver exceptional performance, efficiency and refinement while meeting the most stringent global emissions regulations. All Ingenium engines deliver benchmark low levels of friction to optimise efficiency and refinement while the new petrol units deploy twin scroll turbos to reduce lag, optimising power output and efficiency.
Continuously Variable Valve Lift technology improves air delivery to both engines. The 183kW powerplant features electrohydraulic valve control for unrivalled flexibility. This patented technology provides fully variable control of the intake valve lift for optimum efficiency, power and torque across the rev range.
In cleaner combustion is ensured by a new 200bar direct injection system, which features centrally mounted injectors with optimised spray patterns to improve efficiency and reduce emissions. In a first for Jaguar, the exhaust manifold is also integrated with the cylinder head casting. Passing coolant through the manifold considerably reduces warm-up times, when engines are at their least efficient, to enhance fuel consumption and reduce emissions.
The 2018 model XF and XE deliver greater scope for customers to personalise the driving experience thanks to Configurable Dynamics being offered as a standalone feature. The system allows drivers to set up the vehicle to suit their personal preference by choosing Normal or Dynamic settings for the engine, gearbox and steering.