Penultimate Friday, at the Rumours Nightclub, Victoria Island, telecoms giant MTN Nigeria  launched an innovative digital comedy platform tagged Comedy+. According to the company, Comedy+, which is the first digital platform to aggregate indigenous comedy content, will serve as a source of income for comedians as well as ensure on-demand access to comedy content for subscribers.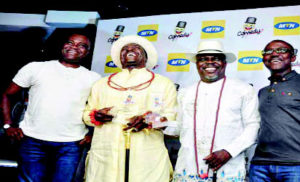 Speaking during the launch of the unique platform, the General Manager, Brands and Communications, MTN Nigeria, Richard Iweanoge said that the introduction of the app aligns with MTN's mandate of providing life-enriching products and services for subscribers.
He said: "The launch of this unique platform is borne out of the need to fill the yawning gap in the comedy sector. Comedy in Nigeria is fast assuming a critical position given its exponential growth and there is a need for us to harness the potentials of the sector and ensure that there is mutual benefit for all the key stakeholders.
While reeling out the benefits of the unique app, Iweanoge stressed that comedy+ subscribers will have access to tons of comedy contents by simply downloading the app on their mobile phones from the respective app stores or by simply sending COMEDY to 2100. He added that a 1 month free access period is available upon first time download and log-in while subsequent access is subscription based.
Also speaking on the initiative, veteran comedian, Ali Baba, described it as a very welcome development that is coming a time when the comedy industry is in dire need of re-organization.
According to him, "We are very happy to welcome this platform. MTN has done well by introducing this platform at a time when Nigerian comedians are feeling short changed. The value proposition is exciting and Nigerian comedians will benefit immensely from it. It will provide an avenue for upcoming talents to also showcase themselves but the ultimate beneficiaries are the Nigerian fans who always want to hear their comedians perform.
Also commenting on the app, ace producer and pioneer of the successful comedy show, Night of a Thousand Laughs, Opa Williams said: "It's really heartwarming to see this happen. MTN has done an amazing thing for comedy. It is evidence that comedy is growing and getting the right recognition."