BY JAPHET ALAKAM
After 53 years of painstaking research and documentation, poet, cultural icon and writer, Pa Frank Aig-Imoukhuede, last week unveiled his two new books. The presentation of the books titled A Calendar of Traditional Nigerian Festivals and Between God and Man: Meaning and Essence in Traditional Nigeria Festivals was attended by eminent personalities and literary giants. It was commendation galore for the man's sterling attributes and for coming out with such landmark books that speaks well about Nigeria.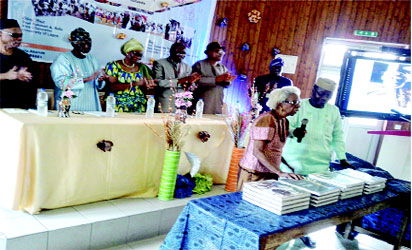 The event which was held at the Julius Berger Hall, University of Lagos, Akoka was chaired by the Vice Chancellor of the University of Lagos, Prof. Rahaman Bello, represented Prof Duro Oni.
Other dignitaries in attendance were Prof. J P Clark; Mr George Ufot, representing the Information and Culture minister; Engineer Solomon Uwaifo; Prof Muyiwa Faleye; Matriarch of Nigerian literature, Mabel Segun; Odia Ofeimun; Kolade Osinowo; Kunle Ajibade; Josephine Igberaesa; Bode Oshokoya of Warpic, and others.
Speaking as the chairman, Prof Duro Oni commended the author for the feat. "I belong to the culture and art department. The author has been known to me since 1976. We call him Uncle Frank, and he is frank indeed. In Nigeria, you can not talk about culture without mentioning Uncle Frank because he was the director of National Council of Arts and Culture." He said Uncle Frank was instrumental to the creation of the center for cultural studies at the university.
In her  speech, Mabel Segun who unveiled the books said books has made wonderful contributions to her life.
Poet and writer, Odia Ofeimun, who also acknowledged the contributions the author has made to his life commended him for coming out with the books at this time. "The first time I wrote a poem, it was the author who made it possible. Due to what he did for me, I was praying that one day he will come out with something like this. It is good he has done it now before some historians will come up with things to deceive us," he added.
The books were reviewed by two scholars, Dr Peju Layiwola, and Dr Chiedozie Okoro, both Associate Professors from UNILAG. Dr Layiwola who reviewed the first book, A Calendar of Traditional Nigerian Festivals described it as a rich collections of facts about the festivals in Nigeria. According to her, "when an octogenarian sets out to write a book, you will be sure to get something from it."
The 417 page book takes the reader to different types of festivals, where they are held, and when. It is made up of 37 chapters, and each chapter is dedicated to a state and one to the Federal Capital Territory. The book shows historical photographs of different festivals in different states. It is indeed a documentation and celebration of the country's rich cultural heritage bound to project the image of Nigeria in the tourism industry.
Reviewing Between God and Man: Meaning and Essence in Traditional Nigeria Festivals, Dr. Chidozie says the author gave a broad account of the history of different cultures in Nigeria, with some salient messages that will generate researches on best ways to protect the Nigerian cultural heritage.
The event also featured scintillating performance by Titi Adebayo, the great musician.