By Benjamin Njoku
After a successful outing last year, organizers of the African Film Festival,AFF, are warming up  to shut down Dallas, second-largest city in Texas, the United States once again as this year's edition of the festival kicks off on Saturday,  June 24, with a workshop on short film.
According to the organizers, the  festival which holds at the Dallas City Performance Hall will be opened to the general public from Friday, June 30. It will climax on the 3rd of July with the awards night.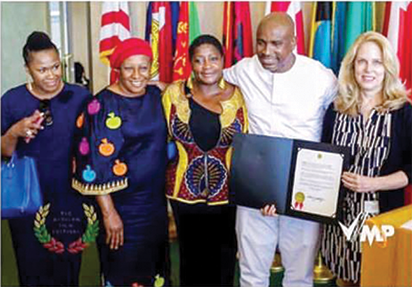 The three-day event showcases films made by Africans, as well as a few made by non-Africans about issues important to different regions of the continent. Last year, Patience Ozokwo a.k.a Mama G, was one of Nollywood's stars who was honoured with the 2016 African Film Legend Award at the festival. While it lasted, city officials hailed the new festival as an expression of the increasing ethnic and cultural diversity in Texas' second-largest city.
Regina Hill Onyeibe, the Africa Liaison for the City of Dallas praised the film festival's director and founder, film maker Kelechi Eke, not only for bringing this event to Dallas, but for providing an audience for African film makers in diaspora.
She said, the festival director had created "a portal in which other Africans can follow their dreams of telling their stories."
 Encouraging African film makers to present a true picture of Africa
While explaining the idea behind the festival, Eke, a multi award-winning film maker said,  his idea was to encourage African film makers and to present a true picture of Africa and Africans to counter the distorted image often created in mainstream commercial films. "We wanted to incorporate our culture and our films and share it with the rest of the world and why not Dallas?" he said.
Speaking further, Eke said, other Africa film festivals in the United States either showcase Hollywood films about Africa or films made by African Americans. This festival, he said, is centered on Africa, with films that tell deeply rooted cultural stories, as well as spotlighting problems facing many parts of the continent.
An example of the latter is a documentary from Nigeria called "Nowhere to Run," which shows the shocking effects of environmental damage and global warming on Nigeria. With stunning cinematography, the film shows the destruction of coastal mangroves caused by chemical leaks from oil and gas production, the flooding of some coastal communities caused by rising sea levels, and the decreased size of Lake Chad caused largely by overuse of its water for agriculture.
Another documentary, from Sierra Leone, called "Killa Dizeez," recounts the toll taken by Ebola during the recent epidemic in Western Africa.
However, about 40 films featured in the festival program last year, most of which were narrative films concerning such things as domestic discord, women's rights and the troubles of migrant workers. Nigeria  was represented at the festival with 12 films as well as Cameroon which had nine films that were screened. One film, "Ben and Ara," tells the story of an agnostic graduate student who falls in love with a woman who is a devout Muslim. Another, "People at Sea," tells the story of a coastal community moved by the government to an urban center and their struggle to adapt.
Ethiopia's four films included  "Two Zions," which is about the country's connection with Judaism.
Other African nations represented in the festival include Tanzania, Guinea-Bissau, South Africa, Ghana, Gambia, Uganda and Burkina Faso.
According to Eke, about twenty countries including Australia and Great Britain have indicated in their interest in participating in this year's festival.
Some of the awards categories include, Best Narrative Feature, Best Documentary Feature,
Best Narrative Short, Best Documentary Short, Best Director, Best Actor, Best Actress, Best Emerging Filmmaker, Best Cinematography and Best Original Soundtrack. Others are Best Poster,
Best Trailer, Best Costume, Best Screenplay and Best Indigenous Film.