Governor David  Umahi of Ebonyi State has said there is nowhere in his state for any opposition  political party to sweep, adding that President Muhammadu Buhari, is the only recognisable APC member in Ebonyi State.
Umahi, who spoke when a delegation from Ohaozara, Onicha and Ivo Federal constituency as well as stakeholders from Onicha-East constituency paid him a new year homage in Ohaozara Local Government Area, explained that his efforts to transform the state had made it impossible for broom to be useful  in the state.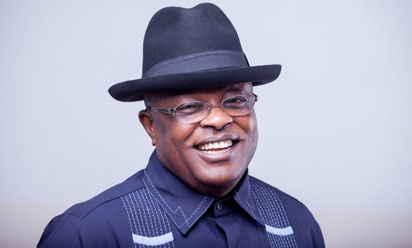 The governor added jokingly that "our people doing handiwork have refused to produce brooms again.Opposition has nowhere to sweep in Ebonyi."
A statement by his  Chief Press Secretary, Emma Anya, however, quoted the governor as saying that the only recognisable APC member in the state was President Buhari.
The chairman of the National Caretaker Committee of the PDP, Senator Ahmed Makarfi, in his response asked the governor to clarify what he meant. "Let him clarify,"Makarfi said in an sms to Vangaurd.
Governor Umahi had poured encomiums on President Buhari, saying he is the only recognisable   APC member  in Ebonyi State.
He pledged  loyalty to the Buhari administration,  saying the  only vote APC would get in  the  state would be that of the President.