By Francis Ewherido
Recently, a stowaway was found dead in the wheel compartment of an aircraft belonging to a Nigerian airline after it landed in South Africa. A few days later, the news just fizzled out. Some people apparently did not want the news on the front burner for long. Bringing it back to the front burner is not my intention here, so let sleeping dogs continue to lie. But I must express my discomfort with the security breach that made it possible for the stowaway to hide in the wheel compartment of the aircraft. It is a disincentive to travelling by air.
My concern today is what prompted the young man to engage in this suicidal mission? He is not alive to tell us, but we can hazard a guess. He was traveling to South Africa by fire, by force to seek the proverbial greener pastures. Such foolhardiness is common among our youths. They head for Europe via Niger Republic, through Mali until they get to North Africa.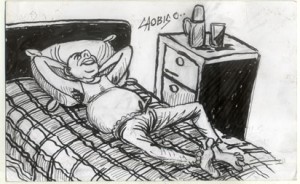 That is if they survive the unforgiving weather of the Sahara Desert, the ubiquitous bandits and fraudsters along the routes, among other clear and present dangers. In North Africa, they are packed in camps like sardines, tortured and dehumanized. Then they work to raise additional money to bribe their way through and pay their fares to Europe via the Mediterranean Sea. Predictably, some of them perish when their overcrowded boats capsize.
In the case of the stowaway, he travelled at 30,000 feet above sea level for over six hours with little or no oxygen. He stood no chance. Maybe, he got deceived by the experience of the boy who travelled from Benin to Lagos the same way and with the same airline and survived sometime ago. That was a shorter journey and the altitude was also lower.
What is pushing these youths into these perilous trips? Our economic situation and insecurity are major factors. There are very few jobs to go round and millions of youths are unemployed. Those who try their hands in business do not find it easy. Power supply is epileptic, the infrastructure is poor, access to capital is difficult, and the operating environment is generally unfriendly.
But truth be told, business owners/self-employed are partly responsible for business failures. The issues range from elementary mistakes like wrong location to financial illiteracy, financial indiscipline and poor entrepreneurial skills, among others. In this regard, the fowl that sleeps on rooftop in Urhoboland is simply going abroad to continue sleeping on rooftop, unless there is a paradigm shift.
The story of Nigerians abroad is a tale of mixed fortunes as we have back home. Some are financially successful while many are not. Some do not even have the money to buy a ticket to come back home, not to talk of money to settle down here. They are just contented being seen by family and friends as living abroad while they run in circles year in year out with zero financial progress. If anything, they are digging themselves into further debts with credit cards due to financial indiscipline. There is no hope some of them will ever return to Nigeria because their debts will take a lifetime to repay.
I do not have issues with
Nigerian youths travelling abroad to try their luck. If they do not engage in adventure or take risks now that they are young with only themselves as responsibilities, when are they going to do it? When they are old or saddled with family and parental responsibilities? The world has become a global village and they have a right to choose where they want to live.
But they must start by doing the right thing: this global village has international boundaries and they should follow due process before they cross the borders. Also, such trips should be based on proper information and strong fundamentals, and must be purpose-driven. Some youths believe erroneously that jobs and good life are like products you pick off the shelf abroad.
Once you get there, the jobs are there at your pleasure. The streets are also paved with gold. Nothing is further from the truth. I was very disheartened recently with an immensely talented Nigerian youth who produces goods that are very much in demand here. But all he wants is to travel abroad without a clear plan of what he wants. He just wants to go and "hustle."
What advanced societies offer is certainty, which makes it easier to plan your life. You are sure of regular power and water supply, the infrastructure is good, transportation is efficient, there is orderliness and rule of law. Medical care, though expensive, especially without health insurance, is top notch.
These combine to give a Nigerian immigrant immediate better standard of living. But at the personal level, you must fend for yourself and white-collar jobs are not there at the beginning. So you start with menial jobs and some people get stuck there all their working life. You need resident and work permits, which take time. You might also have to go back to school, especially now that our academic qualifications are suspect worldwide. You will also not be able to cut corners or dodge taxes, as some of us do in Nigeria, because you will be caught and jailed.
Many Nigerians in paid employment abroad are in a rat race. Month in month out, the salary comes and goes into taxes, upkeep, water, electricity and other bills and school fees. You can add debt servicing, if they get into the vice grip of credit card debts. The financially reckless ones are worse off.
For youths who want to stay back in Nigeria, welcome to the land of opportunities for the brave, the patient and the ultra-dogged. Happily ours is an elastic economy with limitless opportunities in all sectors.
Agriculture, with information technology, is one of the rave of the moment with favourable government policies and government's desire for Nigeria to be self-sufficient in food production and also conserve much needed foreign exchange. Nigerians are pouring into this sector in droves and some are already making a kill. But I advise youths to beware of herd mentality; only pursue an endeavour which you have a passion for. It is one of the quickest ways to make a breakthrough.
I have been saying it for a long time that the greatest thing going for us is not the oil but the population (in fact, I see oil as a curse and distraction). Nigeria is currently the seventh most populous country in the world with an estimated 188 million people. That is a massive market for any product or service.
That is what is attracting the Chinese, Indians and South Africans, in spite of the very difficult operating environment, and should be food for thought for those of us in a hurry to leave. But truth be told, the Nigerian business environment is tough and certainly not for the chicken-skinned; Nigeria harsh. But a study into how the foreigners are making it here (legally) will certainly help.