By Henry Efe Duku
MY encounter on December 10, 2016 with Lucky Awobasivwe on the 'National Leadership Question' opened insights worth sharing. A successful business tycoon, Awobasivwe is an amazingly simple man. Guided by sound ethical principles, he has deep respect for people, processes, and rules.
Though averse to the "undue complexities of politics", he is nonetheless passionate about good governance as the "bedrock of societal orderliness and oxygen for good, sustainable businesses". He is passionate about credible leaders and believes President Muhammadu Buhari has what is required to deal decisively with bad governance in Nigeria, especially corruption.
Also, he is bullish on Mallam Nasir Ahmad El-Rufai – the Executive Governor of Kaduna State. On that day, Awobasivwe talked passionately about El-Rufai's "unblemished leadership qualities, clear vision on the right direction for society and extraordinary courage to go against the status quo and make positive change possible."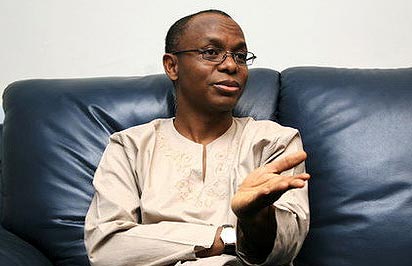 But somehow he supplied no more than platitudes for so elevating El-Rufai, and for this I disagreed with him. In disagreeing, I was armed with two rebuttals which I had aptly used in a social media debate on El-Rufai's tenure as the Director-General (DG) of the Bureau of Public Enterprises (BPE). I had argued then, that:
Character  balance
"Nasir must lose his claim to whistle-cleanliness, character balance, and thoroughness if media reports are right that, as DG of the BPE, he negligently, conspiratorially, overzealously, or underhandedly handed over NITEL to Pentascope – an easily ascertainable fraud on Nigeria as a nation. It is said that Pentascope was hastily registered in Holland on New Year Day in 2002 (a global Public Holiday!).
It is a fact that Pentascope is not a registered company in Nigeria (with the Corporate Affairs Commission (CAC)) and therefore lacked the legal capacity to do business in Nigeria, including managing NITEL. Pentascope's workforce of just nine (9) persons, reasonably disqualified it from competing to manage a behemoth like NITEL with a staff strength of tens of thousands. Even in appearance alone, Pentascope was an ad-hoc design to swindle Nigeria.
An ad-hoc design to swindle Nigeria: "Significantly, the BPE advertised that it was searching for an international telecoms operator with a record of accomplishment of installing and managing at least one million telephone lines. Pentascope had no such history of managing even one telephone line! Indeed, Pentascope failed all set criteria for companies competing to manage NITEL. … Despite these and much more, the BPE still donated the management of NITEL to Pentascope and curiously declined to monitor implementation of the Pentascope agreement! … That apart, I also agree that the Mallam ought to be disrobed of respect if his BPE actually paid his 'lucky' female aide, Ms. Aishetu Fatima Kolo, about Two Million Naira as monthly pay (in US Dollars equivalent) in brazen violation of basic rules of transparency. On both counts alone i.e the Pentascope and Aishetu Kolo issues, it would seem El-Rufai's BPE rigged extant rules and broke the law. If so, then someone ought to be tried and jailed now."
These rebuttals had tainted the credentials of orderliness, uprightness, and transparency ascribed to El-Rufai and were the lenses with which I viewed anything 'Nasir El-Rufai'. Thus, more was required to canonise El-Rufai as a reference for good leadership in the exalted order of Lee Kuan Yew, as Awobasivwe believes.
But Awobasivwe was calm as I took down his perspectives. To him, my rebuttals were out of context and based on unhinged sponsored media reports. Questioning his confidence in the El-Rufai brand was a pain, as revealed in his response: "It's very painful, disturbing and dangerous to have the thoughts of brilliant and principled persons shaped by sponsored media untruths and that seems to be the case here. … We need a serious conversation. And let me implore you to open your mind. You cannot objectively define a person with just two narrow and twisted events. I shall be asking you to study about Mallam. Read this book (bringing out a new copy of 'The Accidental Public Servant' written by El-Rufai)."
The Accidental Public Servant: No doubt, Nasir El-Rufai is a prominent feature in our public space. The top graduand of his 1976 class in the prestigious Barewa College, Zaria, El-Rufai also holds a first-class Bachelor degree in Quantity Surveying from Ahmadu Bello University, Zaria.
He has post graduate degrees from Harvard and Georgetown Universities – a Master's degree in Public Administration and a certificate in Public Policy and Management from the John F. Kennedy School of Government, Harvard University. El-Rufai also holds a Bachelor of Laws degree (Second Class, Upper Division) from the University of London. With these credentials, El-Rufai passes easily as intellectually smart.
His core belief that "… to succeed in public service, one must have acquired a certain level of anger with our failures as a society, and be willing to damn all consequences to change things for the better" speaks to a character element that is almost totally absent in our public service space.
El-Rufai came to sustained national limelight with his appointment as the Director-General (DG) of the Bureau of Public Enterprises (BPE) – the body in charge of our national privatisation program. His choice gave the previously sleepy BPE new life and it became registered in public consciousness for 'market efficiency' – an acceptable alternative to the historical 'state inefficiency' in virtually all our public enterprises.
Fighting against massive systemic corruption: El-Rufai's uncontroverted accounts in The Accidental Public Servant speaks admirably to an unbelievably strong leadership personality. He fought against massive systemic corruption and a generally rotten status quo whilst in BPE by consistently taking down corrupt 'Big Men'.
He even had to exploit a 'loophole' in extant laws to use BPE's resources to help finance Mallam Nuhu Ribadu's EFCC to take off. His goal was simply to strategically defeat the plans of some corrupt politicians who, being scared of its take off, gave the EFCC zero budgetary allocations then. In an instance, a BPE staff was sacked for allegedly being procured to bribe him with USD350,000.
Given his unbreakable anti-corruption convictions, was it possible that the allegations were orchestrated to taint El-Rufai in bad light with a view to allowing corruption a smooth sail in the BPE? The answer is a straight 'Yes'. In Kolo's case, El-Rufai was targeted for refusing to 'play ball' with corrupt lawmakers who wanted to make the BPE their private ATM. And because they met an impenetrable barrier in El-Rufai's granite will, they practically defunded the BPE with zero budgetary allocations – thinking this would compel his acquiescence.
Collateral damage
But ever unyielding to attacks on his values, El-Rufai called upon his ingenuity by resorting to international funding and donations for the BPE from USAID, DFID and the World Bank. In the case of USAID, the donations were administered by IBTCI – a USAID-appointed consultant. BPE was therefore not in direct control of what its "core team" consultants, including Kolo earned.
The media smear of Kolo under the transparent USAID funding arrangement would eventually irritate her to leave BPE for a World Bank programmr. She was just a collateral damage in a vicious war for BPE's soul! They lied against Kolo because they feared El-Rufai her boss. Regrettably, we believed them because there was no forceful, credible counter narrative.
On Pentascope, it has been argued that as chairman of the National Council on Privatisation (NCP), former Vice President Atiku Abubakar approved the takeover over of the management of NITEL by Pentascope on February 21, 2003 vide a memo referenced BPE/I&N/NT/MC/DG/280. This is quite significant – being contrary to the impression out there that El-Rufai's BPE acted unilaterally, without approval. Short of some incoherent arguments bordering on procedures, Atiku's NCP has not really disputed this assertion. Thus, Atiku's NCP must take responsibility for the catastrophic collapse of NITEL, more so as it happened after El-Rufai's exit from the BPE.
Undoubtedly, El-Rufai's BPE successes convinced former President Olusegun Obasanjo to appoint him as the Minister of the Federal Capital Territory (FCT), Abuja with a mandate to restore the Abuja Masterplan which was then severely distorted. He knew it would take an El-Rufai to do it and mandated him accordingly. And El-Rufai delivered excellently. But his first hurdle came when he refused to pay an alleged bribe of N54 Million for Senate clearance and went further to publicly name and shame those involved.
Approval for  the property
By this, he announced himself as a 'madman' to be feared the more. Fearless, he took down a building belonging to Ahmadu Ali (Chairman of the then ruling party – PDP) because approval for the property was improper. He almost took Nigeria into a diplomatic row with France for rightly insisting that the French Embassy could not develop its ambassador's residence on a plot of land reserved for a school on the masterplan. He prevailed. Not ready to spare even Nigeria itself for violating the masterplan, he demolished a property belonging the Federal Government as 'illegal'. In the end, he restored the FCT Masterplan. That is leadership.
It is well-known that El-Rufai played a leading role in the 2015 general elections which saw the emergence of President Buhari and his emergence as governor. His decision to invest his leadership endowments at his home front is no doubt impacting Kaduna as a good governance model. He is already undertaking critical institutional reforms and attracting global players to Kaduna. His vision to make Kaduna the largest agriculture and agro-processing hub in West Africa deserves attention because El-Rufai will succeed. His intellectual and character strengths are delivering huge advantages for his people.
The emergence of men of El-Rufai's standing as governors is a rebuke of the chronic mediocrity in places like my Delta State where primitive criminals consistently violate the electoral will of the people and loot public treasuries with animalistic impunity. El-Rufai's credentials aggregate a governance doctrine fit for a better future for a discerning people.
So few, our El-Rufais are endangered species deserving conservation by the replication of their values as normative honour codes. In many ways, El-Rufai represents the reality of the Nigeria many dream of – one where rules are sacrosanct and 'Big Men' are compelled to obey them. Kaduna State is blessed with El-Rufai.
Henry Efe Dukuwrote this piece from Lagos.