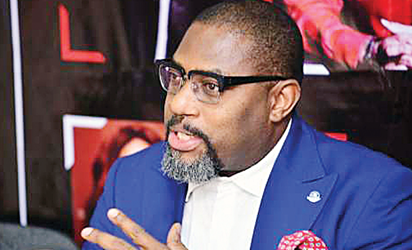 Charles O'Tudor
By Charles Kumolu
LEADING Brand specialist and entrepreneur, Charles O'Tudor, in this interview, reveals how Nigeria can attain sustainable economic viability through proper branding. O'Tudor, who is the Principal Consultant at Adstrat Branding Management Consortium-a firm responsible for many successful branding campaigns in the public and private sectors, also explained how Nigeria can rebound from recession through branding. He also spoke on other issues. 
IT has been said that the stimulation of the various sectors in the country would quicken Nigeria's rebound from recession. From the standpoint of an expert, how valuable can branding be in the search for ways out of recession?
Economies are built on strategy. Branding is a platform with which economies are built. Branding can make a difference now because a nation must be able to communicate its essence in an economy that has scarce and dwindling resources.
If you don't differentiate your brand you will lose out. So branding has a lot of roles to play. For a country like Nigeria, what are we in the comity of nations? Do we communicate what we represent?
What is our DNA? The most important element of any brand is to understand your DNA. If you understand your DNA, you can easily sell your attributes from the brand space. But if you cannot define your DNA, you are all things to all men.
Economic  challenges
So, right now we are all things to all men because we have not painstakingly defined our DNA as a nation so it can drive our communication about who we are to the outside world.
What can we be associated with as a country? Are we involved in everything? Should it be only sports? Should it be nuclear proliferations? Should it be global governance? Who are we? We have to define these from the core. I don't believe there is a recession, what we have are economic challenges because sub-economies are thriving.
So it depends on the mindset. This is the best time to thrive if a nation understands the dynamics. Brands that want to grow need to go back and redefine their DNA and redefine their communication platform. The country should ask itself what its promise is. Is it promising what other competitors promised? Things should not be done because other brands are doing it, Nigeria must define its DNA and avoid bandwagon effect. I believe the role of branding in this economy cannot be overemphasized for corporate organisations, governments, and individuals.
Can you be specific about the national DNAs that should be redefined?
If you have to go into Nigeria's DNA, you have to look at what Nigeria is made up of. No two brands have the same DNA. We need to define our core attributes that cut across all of us because we are a nation-state. We make the mistake of calling ourselves a nation. Nigeria as a nation-state,  cannot define its DNA based on the east, the north, and the west.
Strategic  platform
It needs to be based on a platform that captures the whole essence of all of us. It is important that we have something that binds all of us together that can be accepted as our strategic platform. As a people, what are the common elements that can be used to drive patriotism and our communication as a nation-state?
It is not about symbols and slogans. DNA will help us to define our call as a nation-state. It is important at this time because once we get that right; it becomes very easy to develop communication that is not based on emotions but facts. If Nigeria does not get that right, things will not work because anything brought to the market will be rejected by the Yoruba man, Hausa man and Igbo man among others.
On rebranding: Branding cannot be conjured or invented by mere logos and sloganeering. A brand is built through an internal processing of its brand's DNA based on empirical research. As a country, we need personal, corporate and institutional reformation to achieve a transformational repositioning of our national brand identity. The internal process is what automatically reflects in the external processes. We talk about rebranding a country where corruption still holds sway in all segments of our individual and corporate lives. We talk about rebranding when the most basic amenities of life continue to elude government's delivery capabilities.  A good product sells itself in the market place, but at the moment, Nigeria is still a hard sell, even to its own people. Let somebody tell the government that countries of the world that ever ran successful branding campaigns did not just wake from slumber to initiate a campaign of logos and slogans.
Your rebranding of Cross River State was seen as what revived the Calabar festival with its attendant economic gains. How can state governments tap into the numerous opportunities inherent in branding?
Other states failed to follow the Calabar example because of lack of knowledge. You cannot drive a system beyond the capacity of its Chief Executive Officer, CEO. Liyel Imoke had a vision and he knew where he wanted to go. I had never met him before I was given the job. Most CEOs of states do not understand what it is to run a brand. Most successful brands globally, invest in brand management which is the foundation on which you build an economy. The mindset of politicians that go in there focuses on free money and recouping political investments.
So, everything they do is driven by the hunger to recoup, and that is what I call psychological poverty because the kind of stealing they perpetrate is alarming. How many houses can you live in? How many cars can you drive at a time?
Psychological  poverty
It is psychological poverty that causes such attitude to leadership. Anyone, who goes in as a successful brand will focus on the fundamentals that will drive the economy. If the economy does well, the person becomes a legacy brand. Obafemi Awolowo, Nnamdi Azikiwe and Sarduana of Sokoto invested in infrastructure.
They had values and were interested in nationalism, not personalism. That is the difference between yesterday and today. Where are other brands since then? Which politician is a legacy brand today beyond Obasanjo? How many governors in the last dispensation are still relevant in nationalism?
You recently listed the following as top brands to watch in 2017: Ladi Balogun, Managing Director of FCMB; Segun Agbaje, Chief Executive Officer of GT Bank;  Mitchell Elegbe, Founder Interswitch; Olakunle Soriyan, Founder OS and Lanre Oluola; Founder Lanre Olusola Coaching Academy. Tell us what informed their choices?
In other climes, we have rating systems and the way they work, that, gives credibility to awards. Many years ago I wrote about awards and our reward systems in Nigeria. I talked about the manner of awards in Nigeria by asking about the indices we use in giving awards.
Commercial  awards
We are awash with commercial awards. To redefine the system, we came up with the brands to watch in 2017. It is not for profit. It is based on empirical facts. It is based on excellence and consistency.
The question is: What prompted it? After taking a cursory look at the industry, we found out that there is no award that recognises brands that excel beyond the industry. We are talking about a brand that has excelled globally beyond the  industry. It is the brand that can be seen from lifestyle propagation, external projection and the functionality of their projects. We sat down to identify brands to watch in 2017 so that organisations will start getting credible recognition. The brands are beyond five. They are 35 actually. What I did was that I did an internal research with a team in December about the top five names across the whole sector. that comes to the mind each time.
Out of about 500 names, these 30 names kept coming up. The essence of this is that we will take it to the public. There will be nominations for the corporate brands. We will finally announce the top corporate 100 brands which include governments at all levels.
High point
There are no prices. They are going to get letters of commendations. The most important thing is that they were recognised by the leading brand with local and international repute. For us, we are happy because people can't pay for this award. People have asked why we nominated some people instead of other people, but they don't know our criteria. It is not the everyday kind of award.  This is a legacy thing, it is about the future of Nigeria. We used consistency, performance as parameters.  We considered the ability of the brands to deliver their promises in their sectors. Projection and professionalism were also considered.  They had discipline, consistency, professionalism and went beyond the norms.