By AbdulSalam Muhammad
KANO- Governor Abdullahi Umar Ganduje has said that the Kano light rail is awaiting the approval of the federal government for the takeoff of its proposed Light Rail Train project.
Already Kano state government and a China Railway Company Group, CR18G-CRECG last month signed a multi million naira project.
Briefing Reporters on the outcome of three weeks sojourn to China and Saudi Arabia during the State Council Meeting Thursday Governor Ganduje said "it was successful trip ".
Ganduje said "as you are aware i led a delegation that met with the Chinese company at its headquarters and discussed the projects extensively, and I'm glad the outcome was very successful."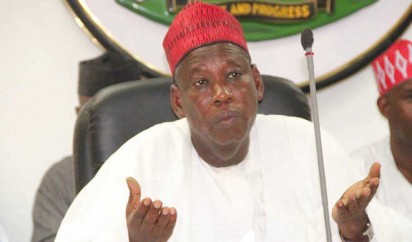 The governor revealed that CR18G-CRECG has took the delegates to inspects some of it rail works in some part of the country especially a project at Tianjin City.
He added that during the visit, he met with officials of Bank of China, China Import and Export Bank and China Development Bank (CDB), noting that CDB is to provide 85 percent of the project with 3 percent as interest.
The governor further explained that If the loan is to be sourced from Nigerian Banks, the interest rate would reach about 15 percent, emphasising that no country in the world have ever financed railway projects without bank facilitation.
Governor Ganduje said that the state metropolitan light rail initiative as assured by expert, would be able to pay the loan through its expected generated revenue, appealing to people of the state to critically look into the benefit and good side of the project considering the population and plan to make the state a true mega city.
On his visit to Saudi Arabia, the leader of the state disclosed that he met with Vice President of Islamic Development Bank and talk over their last year's meeting with seven Nigerian governors on how the bank would finance some projects in their respective states.
The governor said all the needed documents for the bank to facilitate irrigation, agricultural and water treatment Plant were presented, disclosing that seven-dam irrigation projects and Wudil Water works which would consumed N9 billion are part of them.