New York – Incoming U.S. President Donald Trump has cried out over reports making the rounds that his campaign had connections with Russian hacking to sway the outcome of Nov. 8, 2016 presidential election.
This was his response when the heads of U.S. intelligence agencies on Friday, presented the report of Russian hacking to Trump.
However, Trump, in a series of tweets refuted the claims that Russia worked against Democratic Hillary Clinton to get him elected.
"Fake news, a total political witch hunt!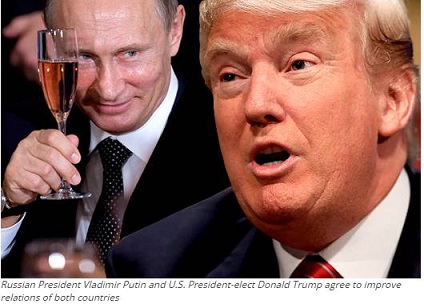 "Russia just said the unverified report paid for by political opponents is "a complete and total fabrication, utter nonsense ." Very unfair!
"Russia has never tried to use leverage over me. I have nothing to do with Russia – No deals, No loans, No nothing!
"I win an election easily, a great 'movement' is verified, and crooked opponents try to belittle our victory with fake news. A sorry state!" Trump tweeted.
The President-in-waiting also accused the intelligence agencies for leaking the report to the media.
"Intelligence agencies should never have allowed this fake news to "leak" into the public.
"One last shot at me. Are we living in Nazi Germany?" Trump said in his tweets.
NAN reports that Trump has consistently denied that Russia was behind the hacking, saying that he won the election based on his popularity.
According to reports, Clinton defeated Trump in the popular votes by almost three million votes, but Trump won the presidency by electoral college votes. (NAN)