Carl Ikeme has said that he will avoid watching the 2017Africa Cup of Nations as a result of his disappointment after Nigeria failed to qualify.
The Wolverhampton Wanderers goalkeeper has been part of a new look Super Eagles squad led by Gernot Rohr who are in pole position to clinch a World Cup 2018 ticket after two qualifying games.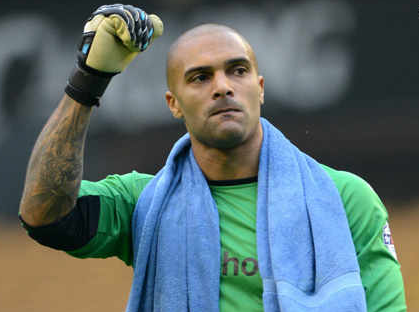 "We didn't qualify this year which was a big disappointment. I'll try and avoid watching the Cup of Nations, because we're not there. Our focus is on the World Cup now," Ikeme told Daily Mail.
The 30-year-old helped Paul Lambert's side defeat Stoke City 2-0 in a FA Cup third round encounter on Saturday, pulling off several crucial saves in the second half to frustrate Mark Hughes and his team. And has hailed his side's performance as 'brilliant'.
"It's always nice to keep a clean sheet and make some saves. We were under pressure at the end but the lads were brilliant from start to finish."