By Ikechukwu Nnochiri
FOR many pundits within the justice sector of the Nigerian economy, 2017 may be a very busy year for the Judiciary. Aside anticipation that many fresh suits will be lodged, with various levels of courts for adjudication,  the Federal Government will through the office of the Attorney General of the Federation, AGF, commence full-blown trial of many high-profile persons, including top judicial officers accused of complicity in sundry acts of corruption.
Among top judicial officers caught-up in the anti-graft web are two Justices of the Supreme Court- Inyang Okoro and Sylvester Ngwuta.
The duo were among seven superior court Jurists that were arrested between October 7 and 8, 2016, after a 'sting operation', the Department of State Service, DSS, conducted at their homes.
Others arrested after the midnight raid were Justices Adeniyi Ademola and Muazu Pindiga of the Abuja and Gombe divisions of the Federal High Court, the former Chief Judge of Enugu State, Justice I. A. Umezulike, the Presiding Justice of the Court of Appeal, Ilorin Division, Justice Mohammed Tsamiya and a Judge of the Kano State High Court, Justice Kabiru Auta.
Criminal charges
Three of the Judges are already answering to various criminal charges, the government filed against them.
Justice Ngwuta of the Supreme Court was on November 21 last year, docked before the Federal High Court in Abuja on a 16-count charge bordering on money laundering, age falsification and alleged illegal possession of multiple international passports.
Trial Justice John Tsoho slated January 18 for Federal Government which has lined-up five witnesses, to open its case against the jurist who was accused of hidden N27million in his bathroom in Ebonyi State. Ngwuta is currently on N100m bail. Similarly, FG will on the same day, adduce evidence against Justice Ademola of the FHC in Abuja who was arraigned on December 13, 2016, alongside his wife, Olabowale, before an Abuja High Court at Maitama on an 11-count criminal charge.
Justice Ademola who is a grandson to a former Chief Justice of Nigeria, was alleged to have on various dates between 2014 and 2015, received huge sums of money as gratifications.
He was also accused of being in possession of one Pump Action Rifle with serial number AVAR MAGNUM 6084 without a valid licence and thereby committed an offence contrary to section 3 of the Robbery and Firearms (Special Provisions) Act, 2004.
Trial Justice Jude Okeke granted the defendants bail on self-recognition to the tune of N50million each.
Equally facing trial is Justice Rita Ofili-Ajumogobia  of the Lagos Division of the FHC, who was alleged to have among other things, received N5m gratification from a Senior Advocate of Nigeria, Mr. Godwin Obla.
She is answering to a 30-count charge before a Lagos State High Court sitting in Ikeja.
There are indications that charges could be filed against the other embattled judges sometime this month. Other judicial officers to enter the dock this year include the Chief Registrar of the Supreme Court, Mr. Saleh Gambo, the Deputy Director of Finance, Sharif Abdulrahman and the Assistant Director of Finance at the apex court, Rilwanu Lawal.
The trio will be answering to a nine-count charge involving alleged N2.2billion fraud before Justice A.B Mohammed of an Abuja High Court at Jabi.
Other high-profile cases to watch out for this year include trial of the detained leader of the Indigenous People of Biafra, IPOB, Mr. Nnamdi Kanu.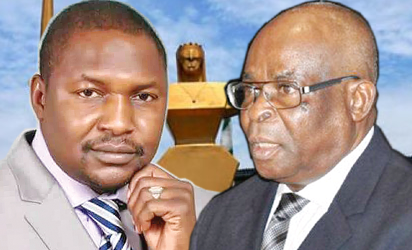 Terrorism and treason
FG had on November 8, 2016, re-arraigned Kanu and three other pro-Biafra agitators, Benjamin Madubugwu and David Nwawuisi and Chidiebere Onwudiwe, on an amended 11-count charge.
Trial Justice Binta Nyako of the FHC in Abuja fixed January 10 to begin hearing on charges against them which borders on terrorism and treason.
The embattled National Publicity Secretary of the Peoples Democratic Party, PDP, Mr. Olisa Metuh, who is facing a seven-count charge entered against him by the Economic and Financial Crimes Commission, EFCC, will also know his fate this year.
Metuh was docked before the FHC Abuja on January 15, 2016, alongside his firm, Destra Investment Limited, over alleged N400m diverted from account operated by Office of the National Security Adviser, NSA, prior to the 2015 presidential election.
FG has already closed its case after producing eight witnesses that testified against the defendants.
The Code of Conduct Tribunal, CCT, will on January 11, resume hearing on the 16-count charge FG preferred against the Senate President, Dr. Bukola Saraki following his alleged false declaration of assets.
The former Chief of Defence Staff, Air Chief Marshal Alex Badeh , who was accused of diverting over N3.9billion from accounts of the Nigerian Air Force,  will also return to court to face 10-count criminal charge  pending against him.
Equally to return to court for trial is the detained erstwhile National Security Adviser to ex-President Goodluck Jonathan, Col. Sambo Dasuki, retd.
An Abuja High Court at Maitama had on December 7, 2016, deferred Dasuki's trial over alleged diversion of N2.1billion meant for the purchase of arms, till January 25.
The former NSA is facing two separate charges the EFCC entered against him before the high court. He is being tried on a 19-count charge bordering on alleged N32billion fraud, as well as another 22-count charge involving alleged N19.4bn fraud.
Dasuki who has been in custody of the DSS since December 29, 2015, earlier wrote to the Acting CJN, praying the Supreme Court to expedite hearing on two appeals he lodged against his continued detention by FG after he was granted bail by various trial courts.
Full-blown trial of the former Minister of Aviation, Chief Femi Fani-Kayode will also begin this year. Fani-Kayode who was the Director of Media and Publicity in the campaign team of ex-President Jonathan, was granted N50m bail on November 10, 2016, after he was arraigned by the EFCC  on a five-count charge bordering on alleged N26million fraud.
The anti-graft agency alleged that the fund was illegally released to the defendant by the erstwhile NSA, Dasuki, before the 2015 general election, to boost media campaign for former President Jonathan.
Likewise, the EFCC will this year, dock the immediate past Attorney General of the Federation and Minister of Justice, Mr. Mohammed Bello Adoke, SAN, before the FHC in Abuja.
Protracted leadership crisis
Adoke will be answering to a nine-count criminal charge alongside an erstwhile Petroleum Minister, Chief Dan Etete, an oil mogul, Mr. Abubakar Aliyu, and six firms.
The defendants were charged over roles they allegedly played in a shady $1.1billion Malabu oil deal.
Firms listed as 4th to 9th defendants in the charge marked FHC/Abj/CR/268/2016, were Malabu Oil & Gas Ltd, Rocky Top Resource Ltd, Imperial Union Ltd, Novel Properties & Development Company Ltd, Group Construction Ltd and MegaTech Engineering Ltd.
Finally, the Abuja Division of the Court of Appeal is expected to hear and deliver judgement on the protracted leadership crisis rocking the PDP.
The tussle is between Senator Ahmed Markafi-led National Working Committee of the party and the Senator Ali Modu Sheriff-led faction.