By Chris Ochayi
ABUJA- The Federal Government has allocated N6,812,285,653 for the execution of vital projects of Office of the Surveyor General of the Federation, OSGOF, in the 2017 budget proposal.
Of this amount, the establishment, survey and observation of geodetic controls and benchmarks nationwide got the lion share of N3 billion.
Further details showed that N1.2 billion was allocated for survey and demarcation of Nigeria's international boundaries.
Others are upgrade and maintenance of high performance servers, cloud backup, research, policy and relocation of data centres, which got N30m, account data base management software for e-colleaction, IPSAS, GIFMIS, IPPIS and other returns, N2m and acquisition of IT equipment, N2m.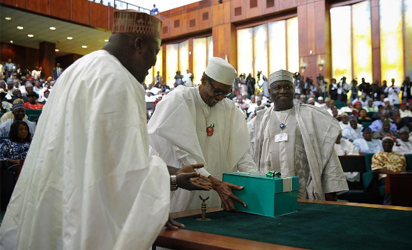 The international earth science and remote sensing and summit got N13m, while N15m was allocated for capacity building for adjudication and administration of international boundary matters and N20m to international obligation on surveying and mapping.
Others include establishment of geospatial information sales depot at the OSGOF headquarters, N2m, geo-hazard, earth tremor, survey, N30m, e-registry and computerisation, ID card machine, N3m, design and erection of digital Minna datum bill board, N50m and establishment of two continuously operations reference station, N128.9m.
According to the budget proposal, remotely sensed data of cities and towns for urban analysis of Lagos, Ibadan, Daura, Kano and FCT, etc, is to gulp N30m, large scale tapographical and cadastral mapping, N25m, mapping of geospatial data for development and good governance, verify statistic data allocated, N25m.
In addition, purchase of two project vehicles, N20m, acquisition and fencing of land in six geo-political zones, N90m, acquisition and fencing of OSGOF headquarter land in FCT N50m, production of annual bulletin, N1m and payment of 2016 outstanding debts, N20m.
Survey and demarcation of Nigeria's international land boundaries, Nigeria/Cameroon, Nigeria/Benin and Nigeria/Niger N80m, survey and demarcation of 10 interstate boundaries N50m, mapping of greater Awgu, Enugu State, N20m.
Survey and observation of geodetic controls, trigonometric stations and benchmarks nationwide got N100m, harvest, process and analysis of Tidal data for determination of national vertical geodetic datum got N20, while Dam monitoring baseline data got N20m.