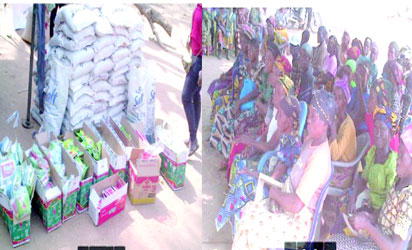 Food items distributed by CASAF to widows, less priviledged and physically challenged at Amoffia Autonomous Community in Ohaukwu LGA of Ebonyi State. and Cross section of the beneficiaries at St. Oliver's Catholic Church, Ngbo East Development Centre in Ohaukwu LGA of Ebonyi State.
By Peter Okutu
ABAKALIKI-A Non Governmental Organization, NGO, Child Aid and Support Awareness Foundation, CASAF weekend distributed welfare packages including bags of rice, salt, maggi, cooking oil, and tomato paste to over 150 widows and less privileged from 16 Villages in Amoffia Autonomous community, Ngbo East Development Centre of Ohaukwu local government area of Ebonyi State.
The occasion which took place within the premises of St. Oliver's Catholic Church, Ngbo East Development Centre in Ohaukwu LGA of the State brought joy and ignited a celebratory mood among the beneficiaries who were full of thanks to God and CASAF for the gesture.
Wonderful volunteers
Child Aid and Support Awareness Foundation is a charity foundation aimed at providing for and mentoring children and young adults not to feel inadequate solely because of situations they were born into and which is beyond their control.
CASAF was founded in 2011 by Mrs. Zainab Kassim and she has been supported by founding members and wonderful volunteers through the foundation's specific and carefully tailored events. One of which is "The Food Bank Project."
Flagging off the distribution, the Ebonyi State Coordinator of the Foundation, Mr. Femi Olatiwo who stated that the NGO decided to extend its area of coverage following activities lined up to mark the yuletide and CASAF's 5 years of existence, noted that what was pivotal about the NGO was its disposition to feed the hungry in society.
Represented by Dr. Vic-Ayozie, the Coordinator added that the NGO was also designed to support children, help them grow and achieve their goals and ambition in life.
"CASAF is celebrating 5 years of its existence and so it decided to spread its tentacles to 5 states of the federation including Ebonyi, Borno, Oyo, Abuja and Lagos".
In his remarks, the Traditional Ruler of Amoffia Autonomous community, His Royal Highness, HRH Eze John Aguta Okpuru who thanked God for bringing CASAF into his community added that the activities of the Foundation could be described as a round peg in a round hole, considering its objective of uplifting the living standards of families in the country.
Represented by retired DSP Innocent Ogwdu,   the Royal father asked God to continue to assist the Foundation achieve its aims and objectives in society.
One of the beneficiaries, Lady Ede Grace who couldn't hide her joy stated that the action of the Foundation has brought joy and gladness to many families in the community and prayed God to keep blessing the organization.
The villages that benefited from the exercise include: Ndulo Emezam, Azuogu, Okworeka, Ogbuegu, Ogbirigba, Owukpa, Ndiagu Ominyi, Okwerike, Adiagu onwe ogwa, Abangwe, onweriji, Adulo Umusuoke, Akpegu, Adiagu Idaka, Otuokpeye, Ndiagu Eshi.