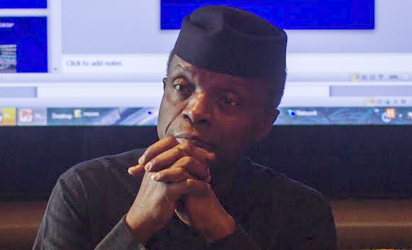 Osinbajo
By Chioma Obinna
Wife of the Vice President, Mrs. Dolapo Osinbajo has urged Nigerians to consciously show compassion for the bereaved in order to save them further emotional harm.
Osinbajo, who spoke in Lagos at the official launch of EHIBAM GriefShare Foundation,  to help lessen the burden of the bereaved, explained that a new normal life for these Nigerians can only be guaranteed through compassion, care and love of the people around them.
The Foundation was instituted in honour of the late son of Pastor Modupeola Irele,  Mr. Ehisieme Osarieme Alonge who died at the age of 35 after a brief illness.
"During the period of bereavement, individuals need support and proper counselling to be able to overcome the burden of the grief.
"We live in an environment where emotions are concealed and many Nigerians are going through such situation now. This time they have no one to talk to and counselling is a practical way to guide them through normal life," Osinbajo stated.
Earlier, Founder of Vivian Fowler Memorial College for Girls, Dr. Leila Fowler who chaired the occasion, narrated how grief can be used to turn around other people's lives, using the death of her daughter as an example saying it informed the establishment of Fowler Memorial College.