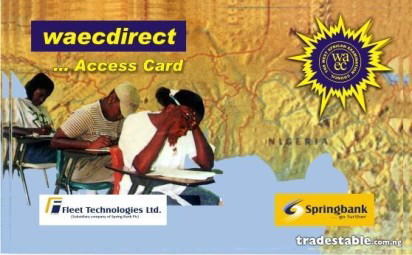 WASSCE scratch cad
The West African Examinations Council (WAEC), says collusion is one of the greatest methods of examination malpractices that is inherent among blind candidates.
The Head of Test Administration of WAEC in Nigeria, Mrs Frances Iweha-Onukwu, made the revelation in an interview with newsmen in Lagos on Wednesday.
Iweha-Onukwu said the reason could be that the candidates were usually not well equipped individually for the examinations.
She added that this had been responsible for what she described as 'not too wonderful performance' among the blinds.
"We have discovered that there is usually high incidence of collusion among blind candidates during examinations.
"That is why their performance has not really been anything wonderful.
"Our society is such that there have not been adequate and conscious efforts to take care of the challenged.
"There have not been enough trained personnel to guide blind candidates before being exposed to major external examination'', she said.
She said that in a situation where a teacher who studied Special Education in higher institution is employed to cater for the needs of physically challenged persons of various dimensions, was worrisome and must be reviewed.
"I cannot explain how one teacher, who studied special education can be given the singular task of meeting the academic needs of the deaf, dumb, the blind and all others.
"Meanwhile, there are candidates who need personalised attention on one-on-one basis.
"If we intend to give the best and all-inclusive education, Federal Government must employ more trained teachers in special education to take care of the different defects among the physically challenged students.
"There must also be consciousness in policy fomulation that will take care of these persons.
"This is because there is ability in disability. These persons can do better if adequate care is given'', Iweha-Onukwu added.