•as NOTAP decries development, wants foreign techs domesticated
•Ekuwem advocates audit of Nigerian tech, tech engineers
By Prince Osuagwu     (Hi-tech Editor) & Anozie Egole
The administration of former president Olusegun Obasanjo initiated the local content policy for Nigeria in 2006. The main purpose was to increase local capacity and participation in the petroleum industry, because the government needed to achieve a substantial portion of the activities in the oil and gas sector, which was the main stay of Nigerian economy.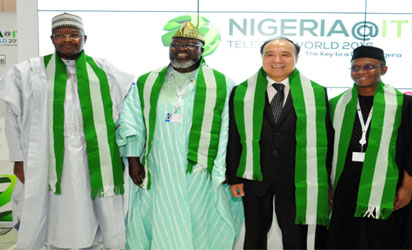 Gradually, the policy circulated to other sectors of the economy, including Banking, financial institutions and the technology sectors. The policy was meant to encourage local skills and acquisitions considering that it allocated 60 percent activities to the local content materials as against 40 percent for foreign ones.
However, in the aggregate technology sector, the trend does not seem to particularly apply. In fact, reverse is said to be the case, as the country is now said to dangerously consume technologies which have 90 percent foreign input and a paltry 10 percent local.
Although stakeholders have been, for long, consistently crying that this trend will not only impact negatively on the economy but will kill local skills, reversal has remained difficult to achieve.
As far back as 2012, the Lead Advocate, Constitutional Rights Advocacy Initiative, (CRAI), Barrister Ikechukwu Ikeji led a protest decrying a situation where, according to him, major contracts and employments are given only to foreign expatiates while smart Nigerians who can as well deliver the same jobs are left behind.
Telecom market
He noted then, that in spite of the impressive growth in the Nigerian telecom market, the country had less than 10 per cent human capacity control.
All these were in spite of repeated revelations by Obasanjo himself that his eight year tenure recorded several achievements because Local content advocacy achieved front burner status at the time.
At a recent tour of Omatek computer factory in Ikeja, the former president unequivocally declared that local content policy, if well implemented, will drive spontaneous growth of the national economy.
According to him, "I believe that we need to now check the process of backward integration, so that if it is only what we produce locally that will make us provide more jobs for the unemployed, let us begin to encourage our own local industries. This is how other countries that are self-sufficient today started," he said.
Incidentally, the National Office for Technology Acquisition and promotion, NOTAP said it has taken notice of this ugly trend and would ensure reversal through new policies.
NOTAP, admitted that more than 90% of the technologies Nigerians consume are imported.
Director General, of the agency, Dr. Dan Azumi Mohammed Ibrahim, at a recent event in Lagos, advised that Nigerians should reduce the rate of   foreign technology consumption.
He said that "private sectors normally enter into agreement with their technical partners outside the nation and it is this agreement that we register in NOTAP. But before we register the agreement, we have to subject that type of agreement into a thorough process of evaluation and this evaluation is done in three major perspectives, the legal, economic and technical perspective."
"I will like to briefly explain the legal implications. When such agreements come into the country, Nigerians are in a hurry to sign it. Some of the clauses in the agreement are not in tandem with the law established in the federal republic of Nigeria. When we see within the scope of the agreement that there are clauses that are at variance with the laws in the federal republic of Nigeria, we advise that it is either you expunge it or modify it to suit our interest".
He added that "the economic perspective is the price the Nigerian counterparts pay to their technical partners outside the country; are they commensurate with the technology they are bringing?   Are the technologies contents enough to warrant that we need to go outside this country to bring them? There must be clause that will ensure that some part of these technologies must benefit Nigerians through training."
Ibrahim said that "It is through these processes that we not only develop our own technologies, but we should be able to reduce the rate of our technology consumption in the country. From our activities, we realised that more than 90% of the technologies we consume as a nation both in manufacturing, ICT, Communication, in all aspects of our lives, are imported and we pay a lot of money to service these agreements.
Products of knowledge
And any nation that is aspiring to become economic independent cannot fold its arms and continue business as usual. Technologies are products of skills, and products of knowledge"
Continuing, he said:. The country has fantastic knowledge infrastructure that should be able to develop technologies that can catapult Nigeria into economic prosperity. But unfortunately because of the pathetic situation of our institutions, many technologies are going out and there is no structure on ground to move the few ones that are coming in to the next level so that they can translate into products and services to move our nation forward.
The next thing we have to do is to allow technologies to come in but before they come in, we will do what we call the human magnate so that some of those technologies can gradually be absorbed, domesticated and gradually converted into Nigerian technology. Through this, the country should be able to start developing."
Also adding to the ideas of Ibrahim, the Chairman Chief Executive of Teledom Technologies limited, Dr Emmanuel Ekuwem, said that this is the time Nigeria should take stock of her local technologies and technology engineers to be able to benchmark with what is coming abroad.
According to him, "it's very unfortunate that Nigeria is seriously turning to a consumer nation as far as our ICT industry is concerned. But it does not also mean we should leap before we look. Now, this is the opportunity to get a few things right towards improving our local content ratio;
*Relevant government agencies should make an audit of the total number of foreign technologies, software, hardware, integrated solutions and even expatriates.
* After that, there should also be an audit or at least a hypothetical list of how many of these imported products and services that can be produced in Nigeria.
* With the list of products and services of Nigerian competence known, the federal government should organize a made in Nigeria product fair where genuinely made in Nigeria products would be showcased for both local and international markets to have a fair view.
*Now, the issue of patronizing foreign experts should be critically looked into. Are there no Nigerians competent to do some of the things expatriates are doing? My answer is that there are many. So why should we look abroad, for what we have at home here?
*Another solution to the problem is that the Nigerian government itself, must be made to patronize made in Nigeria goods. If you want to correct an impression, you have to put up an impression that we lead others to where you want.
*By patronizing made in Nigeria goods, the government should take it a bit further by ensuring there must be protection of the goods made in Nigeria.
* The final point is that there must be consistent projection of made in Nigeria goods and services. When govt officials are going abroad, they should carry products made in Nigeria, like hold Zinox , omatek Brian among other computers produced here.
Our foreign missions should also use our goods in their missions, so that those who have contact with their offices would begin to identify with the products while Nigerians gradually and consistently become proud of what they can offer the world. I am sure that if these strategies are adopted, more of these foreign products would cease to enter our shores and Nigeria would be great economically" he added