By Sola Ogundipe
Diabetes is a common, growing, serious, costly but potentially preventable public health problem .Being diagnosed with diabetes and living with the disorder could be one of the most difficult challenges to come to terms with, especially when realised that it is a life-long illness.
This was the plight of Ganiat, a 33-year-old housewife who was diagnosed diabetic few years ago at the age of 25.  Initially she had no idea what was wrong with her until she took ill for about a month and was admitted in a hospital.
Ganiat was having constant painful headaches from being dehydrated and was constantly sleeping and drinking water. One day, she collapsed and was rushed to the hospital where the diagnosis of type 2 diabetes was confirmed.
Type 2 diabetes is a problem that causes blood glucose (sugar) levels to rise higher than normal. This is also called hyperglycemia. Ganiat was on admission for nine days and it took almost a week before she learned to control her blood sugar. She was surprised because nobody in her family had diabetes previously.
Jacob's case was similar. The 41-year-old father of three had been experiencing extreme thirst for quite a while, but he didn't attach importance to it. One day, he suffered a serious domestic accident during which he sustained a broken leg while getting out of the bath tub. He was taken to the hospital where a routine blood test showed that his blood sugar level was 32.0. He was diagnosed with type 2 diabetes and could not be operated upon till his blood sugar dropped below 10.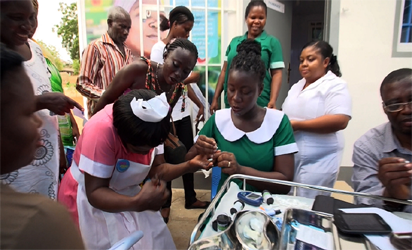 Freak accident
What was most surprising to Jacob was that had it not been for the freak accident, he would never have thought of checking his blood sugar. Doctors said he could have lapsed into a coma and probably died had he not been diagnosed in time.
The two scenarios are typical of most diabetic patients in Nigeria where six out of 10 people with diabetes are not aware they have it.  One of the major challenges is obtaining the right information and treatment at the right time and adhering to it.
Vanguard Features, VF, findings revealed that diabetes is responsible for several serious and costly health complications. According to the "rule of halves" that outlines the hurdles to overcome to get diabetes successfully under control, six out of 10 persons that are diabetic are unaware of their condition, while less than one in 10 diabetes patients are expected to achieve treatment.
Of 1.56 million of those with diabetes, just 610,000 or 39 per cent are diagnosed, out of which 310,000 (20 per cent) are receiving care. Of these, 150,000 (10 per cent) are achieving target treatment while just 77,000 (5 per cent) are achieving the desired outcomes.
Further data from the International Diabetes Federation, IDF, also show that the number of those undiagnosed is higher than anticipated because the disease is on the increase and most of those suffering it or those at risk, are often unaware.
Overall, hospital records show that millions of Nigerians are at risk of suffering from type 2 diabetes. Currently, 1.56 million adults or 2.3 percent of the adult Nigerian population aged 20-79 years and above are known to have diabetes. Almost 40,800 adults were estimated to have died from diabetes related diseases in 2015, averaging 112 deaths per day. However, there are fears that the number of Nigerians with diabetes could grow by 111 percent by 2040.
The economic toll of diabetes in Nigeria is huge and evidence abounds that 63.5 per cent of diabetes related deaths in the country occurs in the income-earning age group. There is also evidence that access to improved medication and adherence leads to lower overall treatment costs.
In 2015, the annual health care cost for a person with diabetes in the country averaged N42,400. Also last year, diabetes accounted for approximately 1.6 per cent of the country's healthcare expenditure estimated at N66 billion per annum and is expected to increase to N100 billion by 2040.
How Western diets aid problem
In the views of the President of the Endocrine and Metabolism Society of Nigeria, EMSON, Prof. Feyi Adegoke, Nigeria bears about a third of the diabetes burden in Africa, with one out of every 10 adults having type 2 diabetes, hence the need for better awareness to checkmate the disease.
Adegoke noted that people residing in the urban areas are more at risk. "The reason is mainly as a result of the tendency to move towards Western diets. In the city there is more consumption of processed foods containing saturated fats, more intakes of alcoholic drinks, more smoking, and consumption of fast foods, among others.
Also driving the epidemic is sedentary lifestyle. There is also less physical activity and exercise," he said.
To highlight the importance of diabetes, the theme for the 2016 World Health Day centered on how the disease directly impacts on the health of millions in the low and middle income countries.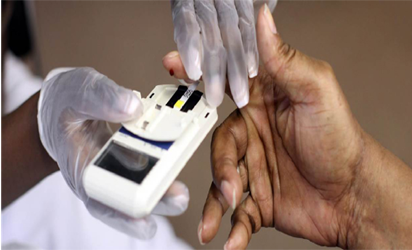 Prior to this, the Federal Government had placed non-communicable diseases, especially diabetes in the centre stage of public health concern in the country. Government introduced measures to tackle the menace by setting up the NCD Division within the public health department to coordinate the national response to NCDs that will safeguard public health.
National response
In 1989, there was an adaptation of the NCDs Global Monitoring Framework to guide programme development and implementation. Also in 2014, a national nutritional guideline on NCDs Prevention, Control and Management was developed.
There was also enactment of the Tobacco Act in 2015 in addition to integration of the WHO package of essential NCD into the PHC services to ensure accessible, affordable, sustainable and cost effective NCDs, early detection, preventive management services and referrals for those that require them.
But despite all these efforts, many people still do not get to know of their diabetes until complications have set in and it is sometimes too late to save them. Yet early detection is a crucial factor in the outcome of diabetes treatment.
VF findings reveal that the underprivileged working poor commonly referred to as the "base of the pyramid" is particularly vulnerable to the disease because they are seriously lacking in regular access to health care including essential medicines like insulin.
BoP treatment option: Recently, as part of its corporate social responsibility, Novo Nordisk, along with local health authorities and other partners, launched an extensive diabetes awareness campaign to promote early diagnosis through screening, especially among the low income population in Lagos.
During the campaign, a total of 42,000 Nigerians are to be screened for diabetes at special diabetes care centres in Lagos, Ogun and Edo states
The three months diabetes awareness campaign is a component of the global healthcare company's initiative tagged the Base of the Pyramid, BoP, project that aims at improving access to diabetes care and treatment for the working poor in developing countries.
VF gathered that the BoP project, first launched in 2013, creates shared value by developing scalable, sustainable and profitable solutions that increase access to diabetes care for the working poor as well as provide value to the business.
It is designed to ensure increased awareness and early diagnosis of diabetes and access to quality care by trained healthcare professionals. Besides Nigeria, the project is currently running in Ghana, Kenya and India.
Spearheaded in collaboration with Roche Diabetes Care and Family Health International, FHI, 360, the diabetes campaign specifically targets improving access of diagnosis and care to those in the low-income category and the indigent.
Seven of the centres currently run in Lagos, Ogun and Edo states, in collaboration with local hospitals, local health authorities and Roche Diabetes Care, and are serving as one-stop-shops for all diabetes care needs to offer comprehensive care in one place.
With these in place, people with diabetes no longer have to travel far and to multiple places to receive care.
VF established that two of such centres established in Ikorodu and Egbeda in Lagos State, seek to break down the barriers to quality diabetes care and the public health sector will in turn benefit from the establishment and effective management of the centres through reduction of the burden on other over-crowded general medicine clinics as the patients can be referred to the support centre for personalised care.
Diabetes centre
During a recent visit to the diabetes centre at Subol Hospital, Egbeda in Lagos, the Medical Director, Federal Medical Centre, FMC, Ebute Metta , Dr. Yewande Jinadu, regretted that diabetes remains a challenge due to low levels of screening. Jinadu who represented the Minister of Health, Professor Isaac Adewole, said the myths and misconceptions are barriers in dealing effectively with diabetes need to be tackled. She urged Nigerians to have their sugar levels tested at an early stage.
"We know that around 1.5 million people live with diabetes in Nigeria, but only four out of 10 are diagnosed. Breaking this pattern of lack of awareness is our promise to people living with diabetes. Providing greater access to populations living at the base of the pyramid not only contributes to improving lives, but gives a chance to entire families and communities," Jinadu said.
The visit was part of the awareness campaign facilitated by the Danish Consul General in Lagos, on behalf of Novo Nordisk, during which key players in the health sector came together to sensitise the public about the dangers of undiagnosed or untreated diabetes.
In the view of the General Manager of Novo Nordisk Middle Africa, Mr. Venkat Kalyan, the BoP initiative is to increase access to diabetes care for people at the base of the pyramid, also known as the "working poor".
At the launch of the extensive awareness campaign in Lagos, he said the purpose is to promote early diagnosis of diabetes through screening, especially among low income groups.
"With this in mind, more people that are diabetic will live better lives free from diabetes-related complications. The campaign involves screening and education within local communities in the selected states.
In a nutshell, the BoP project utilises different business models adapted to address local barriers to care and to meet the needs of people with diabetes at the base of the economic pyramid. Benefits include increased awareness; screening and early diagnosis to prevent complications of diabetes, access to quality care by healthcare professionals trained in diabetes management, stable and affordable supply of insulin and improved self-management through patient education.
Risky behaviour
With the coming of the diabetes centres, it is expected that over time, emergencies due to diabetes complications will be reduced through better management of the disease and preventive actions.
Fortunately, diabetes is not a death sentence. It can be prevented and controlled by avoiding risky behaviour and unhealthy lifestyle. Risk factors include smoking, excessive alcohol, unhealthy nutrition such as consumption of red meat, saturated fat, refined sugar and physical inactivity.
Yet if not detected early, diabetes becomes complicated with damage to body organs, including the kidneys. It could also result in eye damage, complicated cardiovascular diseases, complicated pregnancies and fatal wastages, diabetic foot, diabetes skin, kidney damage and sudden death.
Subscribe for latest Videos