By TOFARATI IGE
The family of a former military Head of State, Gen. Sani Abacha is in a very joyful mood at the moment.  The atmosphere in the Abacha household became even brighter with the pitty-patter of tiny feet that was recently welcomed into the family. The last daughter of the family, Rakiya can safely be described as the happiest person on earth at the moment as she recently welcomed a baby girl. The new baby's name is Takwara Fatima Aida.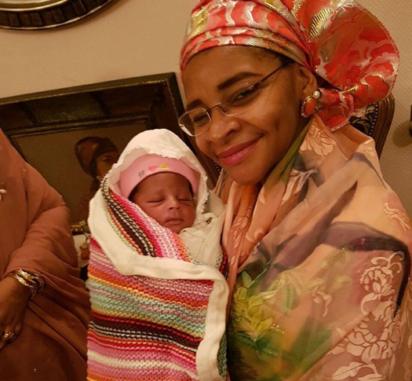 It should be recalled that Rakiya is married to Kano-based businessman, Idris Ali, a son of late Kano transport magnate, Idrisiyya Motors, and they had elaborate nuptial ceremonies in the ancient town some time ago.
Late Gen. Sani Abacha has three surviving daughters, Zainab, Fatimah, Rakiya, and five sons namely, Mohammed, Sadiq, Ibrahim and Mahmud and Abba. The general's wife, Maryam is also resident in Kano where she lives quietly.