Nigeria skipper John Mikel Obi is one of only two players at the men's football tournament of this year's Olympics with as many as 75 senior caps. The other is South African goalkeeper Itumeleng In continuation of its  support for table tennis in Nigeria, Frot Group has again put words to action by supporting Aruna Quadri and Segun Toriola in their quest for glory at the Rio 2016 Olympic Games in Brazil.
The chairman of Frot Group, Frank Momoh who has been supporting sports in Nigeria extended the gesture to the Nigeria Table Tennis Federation (NTTF) during the 2016 ITTF World Tour tagged Nigeria Open.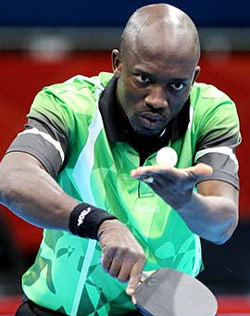 NTTF President, Wahid Oshodi said the gesture would motivate the players in their quest to make the country proud in Brazil.
"This support for Segun Toriola and Aruna Quadri will greatly encourage and assist our top players in their quest to put up a good performance in the Olympics and other upcoming tournaments. It will help in reducing the financial strain incurred by the players in traveling and buying equipment. Playing at world level carries a lot of expenses and the support from Frot Group will go a long way in relieving the players of the financial burden.
We are very grateful to the Chairman Of Frot Group, Mr. Frank Momoh for making this possible."
Meanwhile, a member of Team Nigeria in the men's team event of the Rio Olympic Games, Bode Abiodun believes the new system of play introduced by ITTF would give every team equal chance to make the podium in Brazil.
The Portugal-based player said that he was excited attending his first Olympic Games , while admitting that the presence of veteran Segun Toriola would inspire the three-man team to do well.
"I am so happy making my first appearance at the Olympic Games because this is the biggest sporting event in the world and it is the dream of every athlete to make it to the Olympic Games. Also I know that nobody focuses on us because they see us an underdog but I must say that we are going to Rio to make our presence count." Abiodun said.
The 2014 Commonwealth Games bronze medalist will join Toriola and 2014 ITTF Star Player Aruna Qadri to compete in the men's team event of the Rio Olympic Games in Brazil when the table tennis event serves off August 6.