By Samuel Oyadongha
Yenagoa—Following the recent flood alert issued by the Nigerian Meteorological Agency, NiMET, the Bayelsa State Government has stepped up the clearing of major drainages and canals in Yenagoa and its environs as well as dismantling of illegal structures along the canal right of way.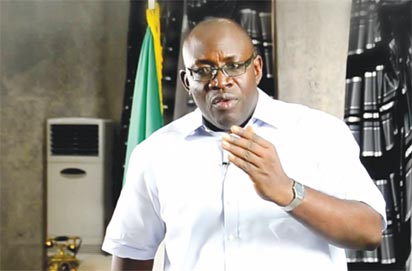 Bayelsa, which is predominantly riverine was the worst hit state along the lower River Niger during the 2012 flood.
NiMET had directed 11 states, Bayelsa inclusive to take proactive action against imminent flood.
Vanguard gathered that with the water level rising along the river bank, heavy duty equipment had been deployed to the flood prone areas to clear the canals, some of which have been converted to refuse dump by residents.
One of such heavy duty equipment, a swamp buggy was sighted, yesterday, at the Azikoro suburb of Yenagoa, clearing the blocked canal that bifurcate the fast growing settlement.
The clearing exercise, according to a government functionary, would be sustained, even as he urged residents to desist from converting the canal to dump site.
He added that the government would not want a repeat of the 2012 flood, which caught many states napping and as such had set up a committee to clear blocked drainages in Yenagoa metropolis.