By Bisi Lawrence
The traditional visit to Aso Rock had not yet been made before this was written. We hope it would include all the journalists who fed us with those juicy news items from Rio 2016. In actual fact, there was not so much juice in what could be sent home about Nigeria, though we heard about the twenty-something medals of Phelps and the "triple-triple" of Bolt. We did not prepare for the performances that produce such results, and we all know that.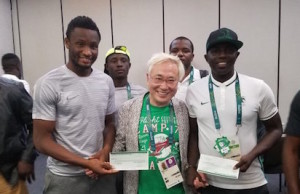 There had been other times when good fortune gave us what we did not really deserve, but this was not one of them. But we won that precious bronze medal in Rio, and we won it against spiky odds, and in the game we love most at that— football.
Having lost our perch on the continental supremacy in continental football, enthusiasm seemed to have waned to some extent. But Samson Siasia—"Sia-One", to give him his right title—took over. He had tremendous confidence in his team and in himself, and so he pressed forward. But he was to fall a victim to Nigeria's hereditary disease of lack of care for their national football team, especially in the dispensation of funds. But he pressed on.
With Mikel Obi by his side, expertise and sterling leadership joined hands to give Nigeria something to smile about, As can be observed, several other nations did not win any medal at all. We are only saying we could have done much better.
Our setback has been in the calibre of officials that have been called upon to manage sports—that is the simple truth. Would you believe that our Minister of Sports…did not  know the coach of the Dream Team enough to recognise him, until after they were in Rio?  That was how familiar he was with the team of his country at the Olympic Games. He probably does not know the importance of the Olympic Games in world sports—or the importance of sports in world affairs. So you ask yourself, how come this fellow gets to be made the man in charge of so much for a nation so big?
How come? It was at the heels of a trend that looks down on sports in the years after the military released the fortunes of this country, rightly, into the hands of the people. The military administrations paid a close attention to our sports performances and development. One of them, Brigadier-General Samuel Ogbemudia of Bendel State fame, made sure that his people excelled in every aspect of sports, and then fashioned sports participation into a vehicle for unity.
The pride which the people felt in their excellence in sports provided a common ground for identification, in a section which was described as peopled by a microcosm of various elements of the country politically, religiously and ethnically. The remnant of that ethos is still distinguishable in the attitude of the masses whenever the nation is involved in any international sports competition, especially football.
Sports was given a special administrative organ outside the rigid routine procedure of the civil service. It functioned within the structure of the National Sports Commission which was a parastatal. The Minister of Sports administered it, but with the close co-operation of a Chairman and Director-General who was usually a technocrat. Hence Chief Alex Akinyele who confessed that he knew little about sports at the beginning, ended up as a very successful sports administrator.
The authorities set up an inclusive body of sports shareholders. Everyone was involved, even the sportswriters who were kitted along with the athletes. Even the topmost officials like Abraham Ordia, the powerful Secretary-General of the Supreme Council for Sports in Africa, listened to the views of the sports reporters on sports organization and management. An important aspect of that was that sports was indeed of a perennial interest, and the preparations for international engagements were not unduly delayed.
The organizers of sports, as it could be imagined, were normally dyed-in-the-wool sportsmen who were masters of their subjects. The club regimen held sway: there were athletic clubs, swimming clubs, cricket clubs, table tennis clubs and, of course, football clubs which were run by government departments (ministries) or commercial firms.
The military—the Army, the Navy and the Air force—also had their organizations, though the army overshadowed the others. In the same way, the Nigeria Police  put the other uniformed forces—the Prisons and the Marine—in the shade by sheer size. The UAC, Joe Allen & Co., C.Zard & Co., Leventis & Co., were among the commercial houses who contributed immensely to sports. MKO Abiola and Justice Ikpeazu were individual citizens who spent their time and money for the love of sports.  And then there were the contributions from the secondary schools. We had students who represented the country meritoriously from schools like the CMS Grammar School, St. Gregory College, King's College and the University College, Ibadan (as it then was,)
What all this means is that a widespread base was available for training and development. But it was in the days of strict amateurism, and no one was inclined to pursue the interest in sports, except where the effort merged with his fortunes, like in the police force. However, a very resourceful programme was evolved when sportsmen and women were given scholarships to continue their interest in sports while learning a profession… .
And so we began to win major events in several international meetings, and in football, especially. Nigeria's image grew internationally, as we increased the number of the sports in which we participated. We built stadiums and created sports training facilities in our institutions of higher learning.   WHERE ARE THEY NOW?
The training institutions are still ensconced in their various faculties but, unlike in former times, they produce very little in sports activities and participation extra mural. The secondary schools hold their inter-house sports, and stop there. And where are the scholarships? Times are hard and private individuals now have other commitments to pursue rather than sports.
Ditto, the commercial houses. The uniformed masters and enthusiasts: Louis Edet, Solomon Asemota, K.A.B.Olowu, and others are no longer in uniform. And when last did you hear of an athletic club, or swimming club, or any thriving sports club except that of football and basketball and a sprinkling of other sports? They are all neglected or abandoned. And so did our fortunes decline.
And the reasons are not very far to appreciate. Funds.  Money. That is what they spend in the United States. That is what they use all over Europe. That is what they now have learnt to expend in Great Britain. That is what we steal in Nigeria.
Corruption. Just think of what strangulated the supremacy of the National Sports Commission. What has emaciated the strength of our athletics and other sports. And why good men like, "Mathematical" Odegbami, and "Golden Boy" Hamilton and other sound organizers have had to stay on the fringes of sports organization, and you will discover why there will be just one bronze medal to present at Aso Rock. Behind an obvious misfit in the Ministry of Sports.  
Timeout.