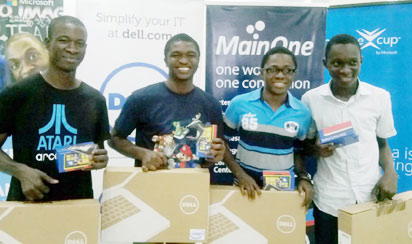 TEAM NIGERIA @ IMAGINE CUP: Members of the Team LifeSaver — the four geeks representing Nigeria at Microsoft's Imagine Cup — From left: Akinlaja Solomon, Oluwole Michael, Afolabi Olamide and Adewale Adeyinka at the presentation of prizes to them as national winners of the Microsoft Imagine Cup Competition in Lagos before their departure to Russia. Photo: EMEKA AGINAM.
By Emeka Aginam
Team Humane from Obafemi Awolowo University, Ile-Ife, Osun State, Nigeria is among 35 teams from around the world selected to contest at the 2016 Microsoft Imagine Cup world wide finals holding next month in Seattle, Washington, the United States of America.
Team Nigeria is made up of four students including Otalu Babatunde, Victor Shoaga, Obasegun Ayode, and Oyatope Blessing, all from the Obafemi Awolowo University Ile-Ife.
However, team Nigeria which also doubles as West Africa  representatives, has a solution designed to help the visually impaired to use the smartphone.
The 35 teams will bring their unique visions for the future to Seattle to compete in the Imagine Cup World Finals.
Microsoft Imagine Cup is the premier student technology program and competition, and a cornerstone of the Microsoft YouthSpark initiative.
The competition provides an opportunity for student technologists, developers and aspiring entrepreneurs from all academic backgrounds to collaborate, develop a technology application, create a business plan and gain  keen understanding of what is needed to bring a concept to market.