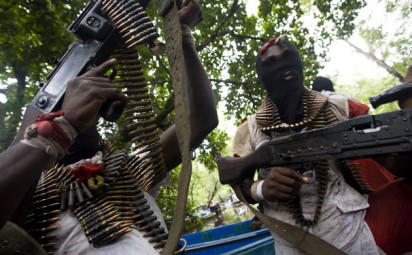 File: Militants
*Our long term goal is dialogue, not negotiation—Judith Asuni
By Emma Amaize, Egufe Yafugborhi & Perez Brisibe
WARRI—A Niger Delta militant group, Reformed Egbesu Boys, yesterday, said that militants in the region did not mandate the Niger Delta Dialogue Contact Group, NDDCG, led by former military governor of old Rivers State, HRM King Alfred Diete-Spiff to negotiate on their behalf with the Federal Government.
However, NDDCG reacting through the coordinator, Dr. Judith Asuni, told Vanguard, "Unlike the groups set up to negotiate between various militant groups and the Nigerian government, NDDCG, has the long term goal of dialogue, not negotiation."
The militant group was reacting to a recent statement by the Movement for the Emancipation of the Niger Delta, MEND, that NDDCG would act as a clearinghouse for "all mushroom and internet-based militant groups in the region.
"We wish to draw attention of the Federal Government, particularly the National Security Adviser, NSA and all relevant authorities that the self-styled Niger Delta Dialogue and Contact Committee, coordinated by Dr. Ajuni and chaired by Diette-Spiff, do not have the mandate to negotiate for the protesting groups in the creeks of the Niger Delta.
"On Diette-Spiff, we would have since denounced him but we allowed him to exhaust all his lies to the President and security agencies before we react. He has never discussed with any of the groups nor has he sent any emissaries to us, but rather he has been gallivanting and parading himself as the chairman of an alleged Niger Delta Contact and Dialogue Committee.
"To the President and Government of Nigeria, we are aware that you are buying time to embark on a military onslaught. This we are aware but we promise that the worst of our economic campaign through the bombardment of key oil and gas facilities has not reached the peak yet. This means, the worst is yet to come.
"The next phase of our attacks and bleeding operations in conjunction with the Niger Delta Avengers, the Niger Delta Joint Liberation Force, Egbesu Red Water Lions, Ultimate Warriors among others would isolate Nigeria from OPEC as zero export is our target.
"We have not given mandate to any group of persons to negotiate with the Federal Government on our demands."
Speaking to Vanguard, Dr. Asuni, said: "NDDCG is not aligned to any group. The Niger Delta Dialogue, which held on June 10, 2016 in Uyo, Akwa Ibom State brought together 50 credible leaders from across the six states of the South South zone."
"Representatives of the Federal Government joined the leaders in discussion of fundamental issues confronting the Niger Delta. The dialogue chairman, HRM Diete- Spiff led a three- person team to brief President Buhari about the meeting, present him with a copy of the report, and to inform him about the formation of a contact group.
"The high level NDDCG has the goal of continuous dialogue between government and the people of the Niger Delta. He said that the group would sift out the core issues, bring them to the table, and distill possible solutions."