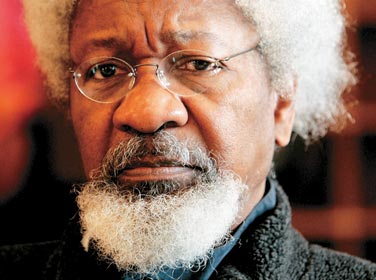 Soyinka
By Daud Olatunji
ABEOKUTA—Nobel Laureate, Professor, Wole Soyinka has recommended jail term for anyone caught or found guilty of corruption, saying such a person should be made to face the full wrath of the law.
Soyinka spoke in Abeokuta, while addressing 82 students who participated in this years' edition of the Wole Soyinka International Cultural Exchange programme held to mark his 82 years birthday.
While speaking on the theme of the event which is "Corruption: A battle for the Arts," Soyinka enjoined creative writers and artistes to use their works to fight corruption.
He  called on all stakeholders across the nation to join hands in the fight against corruption and other related crimes saying it was a battle for everybody.
The Nobel Laureate said the nation must be returned to its past glory where anybody found to be corrupt in the society was ashamed to walk freely.
While suggesting a way out of the corruption menace which, he said, had eaten deep into the fabrics of the nation, Prof. Soyinka said, "anybody caught or found to be guilty should be made to face the full wrath of the law."
Explaining on the rationale behind the theme, he said  "yes, it is a battle for everybody and definitely the arts must be in front as usual.   Not just the arts, the theologians, the moralists, the philosophers, the architects, builders etc, It is everybody's work. The law, NBA, everybody is involved , even including you (journalists).
On the way forward, Soyinka said "there is only one way for corrupt people; it ends in prison.  It ends in Ibara, Oba or Kirikiri."
Earlier, Governor Ibikunle Amosun challenged students and other youths to emulate heroes like Professor Wole Soyinka.
He urged them not to give up on Nigeria in spite of the challenges facing the nation.
Encouraging the 82 secondary school students who participated in the Wole Soyinka Essay Competition titled, "Challenges or Not, You Must Love Your Country," Governor Amosun said, "just like Professor Soyinka is doing, you must continue to show love and support for the country irrespective of the challenges facing the nation."
The essay competition was held as part of activities marking the 82nd birthday of the Nobel laureate.
Amosun also expressed his joy with the fact that many Nigerians now appreciated arts while promising to extend the participation in the subsequent editions of the programme to all students in Nigeria and beyond.
The governor, who congratulated the winners of the contest, charged other students to be more diligent irrespective of the challenges of growing up saying, "tough situations don't last, but tough people do."
The highpoint of the event was the presentation of trophies to Miss. Naomi Akinremi of St. Peters College, Olomore, Abeokuta; Miss. Adedoyin Sotonwa of Mayflower Secondary School, Ikenne and  Friday  Zacheaus of Adeola Odutola College, Ijebu-Ode who came 1st, 2nd and 3rd respectively.